Waterboro Earthquake December 4, 2012
The New England Seismic Network and the U.S. Geological Survey report that an earthquake occurred at 6:11 am (EST), Monday morning, December 4, 2012, in northern York County, with an epicenter in the Waterboro Center area.
The following parameters have been calculated for the earthquake:
Magnitude
2.6 (Nuttli magnitude) or 2.3 (body-wave magnitude)
Location
43.61 degrees North latitude, 70.72 degrees West longitude (±5 miles)
Depth
4 kilometers
This places the epicenter in the area around Little Ossipee Pond and Waterboro Center.
Although the location of such a small earthquake cannot be determined precisely, it is in the same area as the significantly larger earthquake on October 16, 2012, and is considered to be an aftershock.
Felt Reports
The earthquake was felt mildly in northern York County, and southern Cumberland and Oxford counties, within about 30 miles of the epicenter. Within an hour, over 100 reports had been submitted to the U.S. Geological Survey's online site. The regional intensity map shows a small area near the epicenter with peak intensity III, and most of the felt area reporting intensities I to II.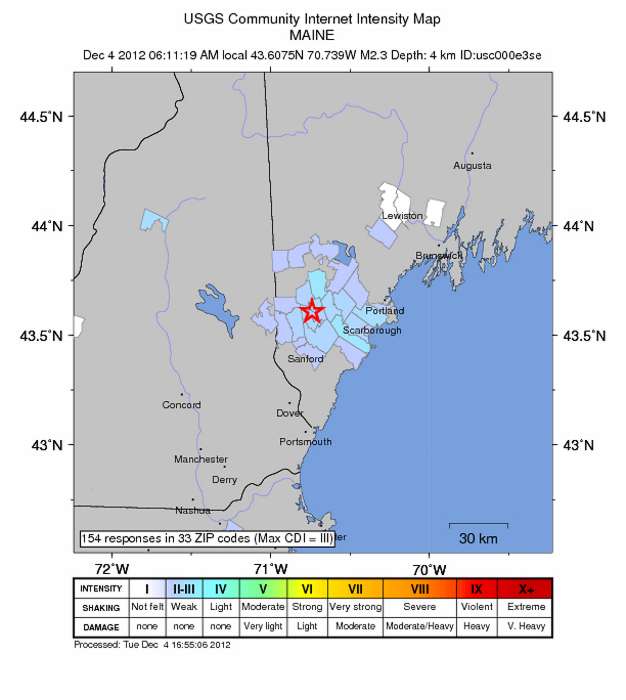 ---
Seismic Recordings
Automatic data recorders across the region recorded the earthquake. Here are some of the plots from the region, in order from closest to the epicenter to farthest.
Lisbon, New Hampshire (station LBNH)
Town of Harvard, Massachusetts (station HRV)
Dover-Foxcroft, Maine (station PKME)
Orono, Maine (station ORNO)
Machias, Maine (station EMMW)
Lake Ozonia, New York (station LONY)
---
Last updated on December 6, 2012