December 27, 2001 Earthquake in Eastern Maine
Weston Observatory reports that a small earthquake occurred at 3:54:27 p.m. Eastern Standard Time on Thursday, December 27, 2001 northeast of Bangor in a sparsely populated part of eastern Maine.
The following parameters have been calculated for the earthquake (this is a preliminary determination):
Preliminary magnitude
2.8
Preliminary location
45 deg. 3 min. North latitude, 68 deg. 9 min. West longitude
Depth
22 kilometers
This places the epicenter near the south end of Nicatous Lake in northern Hancock County.
---
Further Information:
The Maine Geological Survey received only two felt reports, from Greenfield and Burlington. This is not surprising given the earthquake's small magnitude and relatively great depth, and also considering the low population density of the region.
Canadian Seismic Network Hourly plot for 20:00 to 21:00 (UT) on December 27, 2001. The earthquake registered on several instruments between 20:50 and 21:00.
Phase Data Listing of Weston Observatory. This table lists information about the earthquake recorded at seismic stations around the region. It also gives statistics related to calculating the time, location, and magnitude of the earthquake.
Epicenter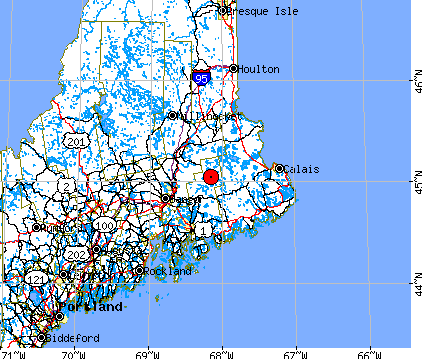 December 27, 2001 Maine, Approximately 56 km ENE of Bangor
| | | | | | | | | | | |
| --- | --- | --- | --- | --- | --- | --- | --- | --- | --- | --- |
| DATE | ORIGIN | LAT N | LONG W | DEPTH | MN | MC | ML GAP | RMS | ERH | ERZ Q |
| 11227 | 2054 | 28.92 | 45-2.51 | 68- 9.36 | 21.68 | 2.8 | 130 | 0.39 | 4.6 | 7.0 C |
| | | | | | | | | | | | | | | |
| --- | --- | --- | --- | --- | --- | --- | --- | --- | --- | --- | --- | --- | --- | --- |
| STN | DIST | AZM | RMK | HRMN | SEC | TOBS | TCAL | RES | WT | AMX | PRX | XMAG | FMP | FMAG |
| UMM | 66.3 | 124 | IPD1 | 2054 | 39.86 | 10.95 | 11.19 | -0.26 | 2.61 | 177 | .14 | 2.3 | | |
| | | | S 4 | 2054 | 48.05 | 19.14 | 19.92 | -0.80 | 0.00 | | | | | |
| WVL | 132.4 | 245 | IPD4 | 2054 | 44.65 | 15.73 | 20.44 | -4.72 | 0.00 | 129 | .24 | 2.5 | | |
| | | | S 4 | 2054 | 59.25 | 30.33 | 36.39 | -6.07 | 0.00 | | | | | |
| PQI | 181.4 | 3 | EPD4 | 2054 | 63.23 | 34.31 | 26.50 | 7.79 | 0.00 | | | | | |
| | | | S 4 | 2054 | 80.29 | 51.38 | 47.16 | 4.16 | 0.00 | | | | | |
| LMN | 277.3 | 71 | P 3 | 2055 | 9.90 | 40.98 | 38.34 | 2.65 | 0.00 | | | | | |
| A11 | 291.1 | 327 | S 3 | 2055 | 39.06 | 70.15 | 71.28 | -1.15 | 0.41 | | | | | |
| A16 | 305.2 | 332 | P 1 | 2055 | 10.93 | 42.01 | 41.77 | 0.24 | 1.54 | | | | | |
| | | | S 3 | 2055 | 42.71 | 73.79 | 74.36 | -0.56 | 0.50 | | | | | |
| LBNH | 312.3 | 253 | P 0 | 2055 | 11.70 | 42.78 | 42.66 | 0.07 | 2.01 | | | | | |
| A54 | 320.0 | 327 | P 1 | 2055 | 12.85 | 43.94 | 43.61 | 0.27 | 1.47 | | | | | |
| MOQ | 323.4 | 275 | P 1 | 2055 | 13.30 | 44.39 | 44.03 | 0.22 | 1.46 | | | | | |
| LMQ | 324.9 | 329 | P 0 | 2055 | 13.12 | 44.21 | 44.22 | -0.08 | 1.94 | | | | | |
| | | | S 2 | 2055 | 47.55 | 78.64 | 78.70 | -0.19 | 0.97 | | | | | |
| FFD | 329.2 | 238 | EPD4 | 2055 | 16.27 | 47.35 | 44.75 | 2.61 | 0.00 | 276 | .22 | 3.5 | | |
| | | | S 4 | 2055 | 60.74 | 91.82 | 79.65 | 12.18 | 0.00 | | | | | |
| A61 | 330.2 | 333 | S 3 | 2055 | 48.21 | 79.29 | 79.86 | -0.58 | 0.46 | | | | | |
| HNH | 361.0 | 246 | EPD4 | 2055 | 2.04 | 33.13 | 48.66 | -15.57 | 0.00 | | | | | |
| | | | S 4 | 2055 | 66.10 | 97.19 | 86.62 | 10.51 | 0.00 | | | | | |
| DPQ | 402.2 | 297 | P 1 | 2055 | 22.86 | 53.95 | 53.76 | 0.19 | 1.11 | | | | | |
| | | | S 4 | 2055 | 61.81 | 92.90 | 95.69 | -2.80 | 0.00 | | | | | |
| GSQ | 437.8 | 10 | P 1 | 2055 | 28.00 | 59.08 | 58.15 | 0.93 | 0.88 | | | | | |
| | | | S 3 | 2055 | 72.15 | 103.23 | 103.50 | -0.28 | 0.31 | | | | | |
| CNQ | 473.7 | 1 | P 3 | 2055 | 30.49 | 61.57 | 62.58 | -1.03 | 0.22 | | | | | |
| | | | S 4 | 2055 | 78.50 | 109.58 | 111.39 | -1.85 | 0.00 | | | | | |
| ICQ | 502.5 | 8 | P 1 | 2055 | 35.00 | 66.08 | 66.14 | -0.06 | 0.66 | | | | | |
| | | | S 4 | 2055 | 85.25 | 116.33 | 117.72 | -1.40 | 0.00 | | | | | |
| SMQ | 586.3 | 11 | P 1 | 2055 | 46.09 | 77.18 | 76.48 | 0.63 | 0.28 | | | | | |
| MNQ | 612.0 | 356 | P 1 | 2055 | 48.40 | 79.48 | 79.65 | -0.17 | 0.17 | | | | | |
---
Explanation of Table
Table Header: detailed hypocenter data
Geographic location
DATE = date event occurred, yr/mo/dy (year/month/day)
ORIGIN = event origin time (UCT) in hours, minutes, and seconds
LAT N = latitude north in degrees and minutes
LONG W = longitude west in degrees and minutes
DEPTH = event depth in kilometers
MN = Nuttli Lg phase magnitude with amplitude divided by period
MC = signal duration (coda) magnitude

WES: 2.23 Log(FMP) + 0.12Log(Dist) - 2.36 (Rosario, 1979)
MIT: 2.21 Log(FMP) - 1.7 (Chaplin et al., 1980)

ML = local magnitude

WES: calculated from Wood-Anderson seismograms (Ebel, 1982)
GSC (Geological Survey of Canada): Richter Lg magnitude

GAP = largest azimuthal separation, in degrees, between stations
RMS = root mean square error of travel time residual in seconds
ERH = standard error of epicenter in kilometers
ERZ = standard error of event depth in kilometers
Q = solution quality of hypocenter

A = excellent
B = good
C = fair
D = poor
Table Body: earthquake phase data
STN = station name
DIST = epicentral distance in kilometers
AZM = azimuthal angle in degrees measured clockwise between true north and vector pointing from epicenter to station
Description of onset of phase arrival

I = impulsive
E = emergent

R = phase

P = first P arrival
S = first S arrival

M = first motion direction of phase arrival

U = up or compression
D = down or dilatation

K = weight of arrival

0 = full weight (1.0)
1 = 0.75 weight
2 = 0.50 weight
3 = 0.25 weight
4 = no weight (0.0)

HRMN = hour and minute of phase arrival
SEC = second of phase arrival
TCAL = calculated travel time of phase in seconds
RES = travel time residual (error) of phase arrival
WT = weight of phase used in hypocentral solution
AMX = peak-to-peak ground motion, in millimicrons, of the maximum envelope amplitude of vertical-component signal, corrected for system response
PRX = period in seconds of the signal from which amplitude was measured
XMAG = Nuttli magnitude recorded at station
FMP = signal duration (coda), in seconds, measured from first P arrival
FMAG = coda magnitude recorded at station
---
Last updated on October 6, 2005