December 24, 1999 Earthquake in Central Maine
Weston Observatory reports that an earthquake occurred at 7:21:41 p.m. Eastern Standard Time on Christmas Eve, Friday, December 24, 1999, near Newport, Maine. It was felt in the local area.
The following parameters have been calculated for the earthquake:
Magnitude
3.0 (calculation after Nuttli, 1973)
Location
44.94 North latitude, 69.37 West longitude
Depth
5 kilometers (shallow)
This places the epicenter about 6 miles (10 kilometers) northeast of Hartland, in St. Albans, Maine.
---
Further Information:
Within a half-hour of the event, the National Earthquake Information Center initially calculated a 2.9 magnitude, but with poor location. A seismologist was quoted by the Bangor Daily News as saying only that "It's in Maine somewhere." The following afternoon, Weston Observatory issued a preliminary determination of its location at about 15 miles west of Bangor, and reiterating a magnitude of 2.9.
Given the prompt reporting of information to the press by the NEIC and Weston Observatory, and also considering the rather small felt area, the Maine Geological Survey did not issue a separate press release for the event. Nonetheless, several people submitted earthquake questionnaires using the on-line form at the MGS web site.
The event is recorded on the Canadian Seismic Network hourly plot for 0:00 (UT) December 25, 1999.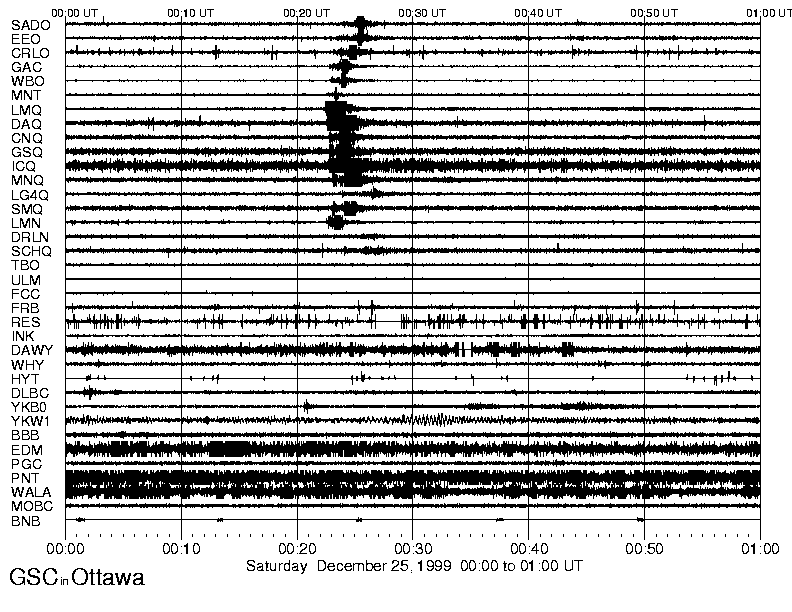 December 24, 1999 hourly seismic plot from the Canadian Seismic Network.
---
Reference:
Nuttli, Otto W., 1973: "The Mississippi Valley Earthquakes of 1811 and 1812; Intensities, Ground Motion, and Magnitudes," Bulletin of the Seismological Society of America, v. 63, No.1, p. 227-248.
---
Last updated on April 27, 2012