October 24, 2001 Earthquake in Central Maine
The U.S. Geological Survey reports that an earthquake occurred at 8:24:30 p.m. Eastern Daylight Time on Wednesday, October 24, 2001, south of Howland in central Maine. It was felt widely from Lincoln to Bangor in Penobscot County, and at scattered locations in Hancock and Washington Counties.
The following parameters have been calculated for the earthquake (this is a preliminary determination):
Preliminary magnitude
3.3
Preliminary location
45 deg. 12 min. North latitude, 68 deg. 40 min. West longitude
Depth
5 kilometers
This places the epicenter about 3 miles south of Howland.
---
Further Information:
Initial report by the US Geological Survey, within two hours of the event.
Phase Data Listing of the US Geological Survey. This table lists information about this earthquake recorded at seismic stations around the region. It also gives statistics related to calculating the time, location, and magnitude of the earthquake.
Canadian Seismic Network Hourly plot for 00:00 to 01:00 (UT) on October 25, 2001.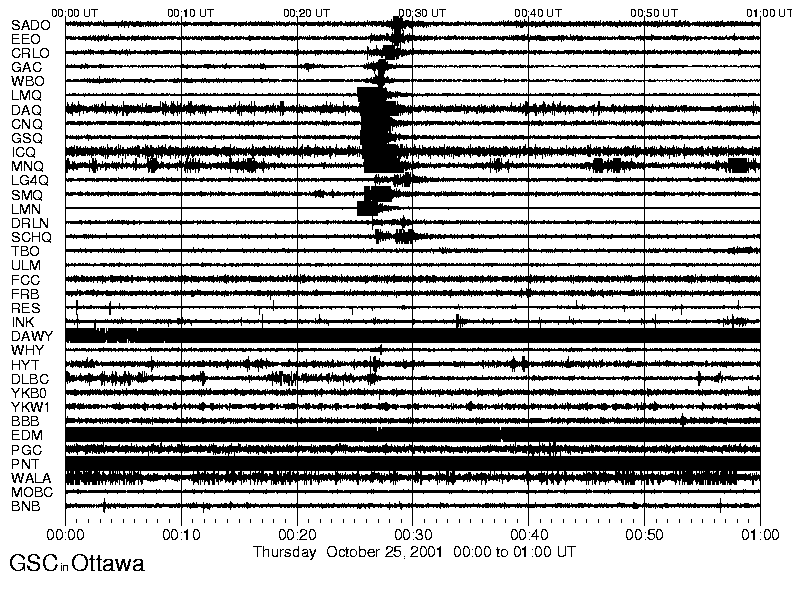 October 24, 2001 hourly seismic plot from the Canadian Seismic Network.
The Maine Geological Survey received reports that the October 24, 2001 earthquake was felt in the following towns:
Addison
Alton
Argyle
Bangor
Bradley
Burlington
Chester
Columbia Falls
Dedham
East Machias
Enfield
Garland
Greenbush
Greenfield
Hampden
Howland
Jonesboro
Lakeville
Lincoln
Lowell
Milford
Milo
Newburgh
Olamon
Old Town
Orono
Passadumkeag
Surry
Veazie
West Enfield
Winterport
The US Geological Survey reports that the earthquake was also felt in the following towns:
Aurora
Great Pond
Lamoine
Springfield
In addition, state and local police received many calls from the area.
---
Published News Reports:
Minor earthquake shakes Maine
Bangor Daily News
Oct 25, 2001
Experts: W. Enfield quake not unusual, Temblor measures 3.3 on Richter scale
Bangor Daily News
Oct 26, 2001
---
Last updated on April 10, 2006