January 3, 2000 Earthquake in Western Maine
Weston Observatory reports that an earthquake occurred at 4:05:50 p.m. Eastern Standard Time on Monday, January 3, 2000, in the Turner-Livermore area, Maine. It was widely felt in the Lewiston-Auburn region, including Androscoggin, Oxford, Kennebec, and southern Franklin Counties.
The following parameters have been calculated for the earthquake:
Magnitude
3.4 (calculation after Nuttli, 1973)
Location
44.31 North latitude, 70.17 West longitude
Depth
9.7 kilometers
This places the epicenter about 15 miles (9 kilometers) north of Lewiston, in Leeds, Maine.
---
Further Information:
A flood of phone calls was received by local police departments, the Androscoggin County emergency management agency, and the Maine Geological Survey.
The event is recorded on the Canadian Seismic Network Hourly plot for 21:00 (UT) on January 3, 2000.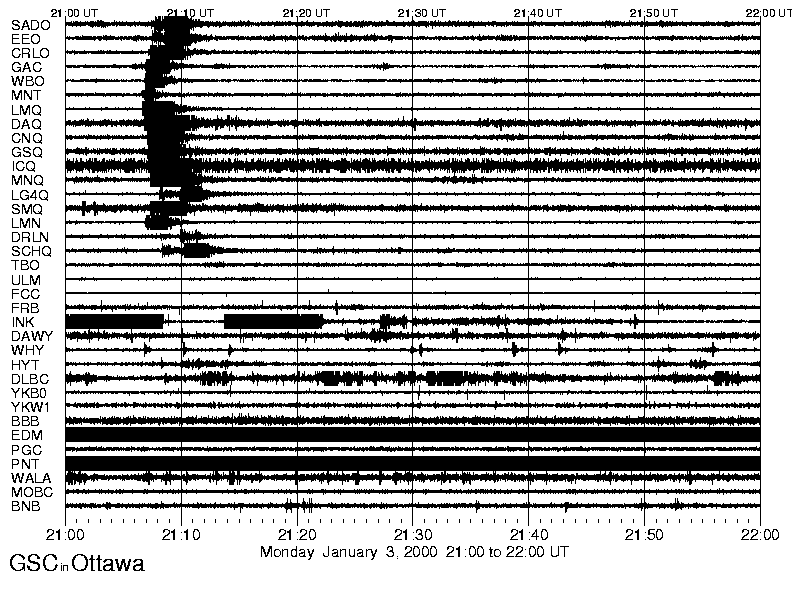 January 3, 2000 hourly plot of seismic activity from the Canadian Seismic Network.
A map showing this event was posted as a "News Flash" on the New England Seismic Network web site of MIT. The preliminary location was given as North Turner, about 4 miles west of the final location in Leeds calculated by Weston Observatory.
---
Press Release:
January 4, 2000 1:24 p.m.
State Geologist Asks Mainers to Describe Earthquake Experience
Second Earthquake in Two Weeks Shakes Central Maine
AUGUSTA, Maine - (January 4, 2000) State Geologist Robert Marvinney reports that yesterday's January 3 earthquake registered 3.4 on the Richter scale according to updated information from the Weston Observatory of Boston College. The updated information, based on recordings of the earthquake from instruments in Maine and northern New England maintained by Weston, place the epicenter of the earthquake in North Turner at about 4:06 PM EST. Marvinney asks Mainers who experienced the January 3 earthquake to describe their experience by filling out the "Earthquake Questionnaire" either online or by contacting the Department of Conservation's Maine Geological Survey.
Developed in cooperation with the US Geological Survey, the earthquake survey is posted on the State of Maine's home page at www.maine.gov. Residents are asked about specific information such as the type of soil and building construction, and the sorts of noises heard and movements felt during the earthquake. Residents without Internet access can call or write for the form. Contact the Maine Geological Survey Monday through Friday by phone at (207) 287-2801 or through mail:
Maine Geological Survey
93 State House Station
Augusta, ME 04333-0022
e-mail: mgs@maine.gov
"It is important to collect personal observations from many people as soon as possible in order to establish the size of the affected area, and the various types of effects people felt in different areas," remarked State Geologist Marvinney. "This information helps seismologists understand the way seismic waves travel through the crust of Maine." Modern seismographs have been monitoring Maine earthquakes only since the 1970s, and having similar first-hand reports for this earthquake will help to estimate the sizes and locations of historical earthquakes that occurred before the modern equipment was available. Marvinney said more than 700 residents filled out a similar survey after the February 1999 earthquake.
The January 3 earthquake was the second earthquake felt in two weeks; the first was a magnitude 2.9 earthquake that occurred 15 miles west of Bangor on Christmas Eve. "While it is somewhat unusual for Maine to experience two felt earthquakes in such a short time, it is not an indication of unusual instability in the Earth's crust. Earthquake timing and locations in Maine are almost random. The two events are not related," said Marvinney. For comparison, southern California experienced nearly 20 small earthquakes during the same period.
---
News reports:
"Minor quake rattles region," by Mark LaFlamme, Lewiston Sun Journal, January 4, 2000.
"If you were shaken, don't get stirred," by Michael Gordon, Lewiston Sun Journal, January 5, 2000.
"Earthquake strikes near Lewiston; no damage reported." Portland Press Herald, January 4, 2000, page 3B.
"Pair of earthquakes just coincidental: Mainers who felt Monday's quake in Turner are asked to fill out a questionnaire." Portland Press Herald, Wednesday, January 5, 2000, page 2B.
Reference:
Nuttli, Otto W., 1973: "The Mississippi Valley Earthquakes of 1811 and 1812; Intensities, Ground Motion, and Magnitudes," Bulletin of the Seismological Society of America, v. 63, No.1, p. 227-248.
---
Last updated on April 27, 2012