Ecological Reserves
On this page:
---
Ecological Reserves are public lands set aside to protect and monitor the State of Maine's natural habitats. The Maine Natural Areas Program oversees the long-term ecological monitoring plans for these lands managed by the Bureau of Parks and Lands. As of 2013, Maine has designated more than 90,000 acres of Ecological Reserves on 17 public land units. They range in size from 775 acres at Wassataquoik Stream in T3 R7 WELS to over 11,000 acres at Nahmakanta in Rainbow Twp. The original ecological reserve designation was enabled by an act of the Maine Legislature in 2000, which specifies that these lands are managed
Stratton Brook Pond, Bigelow Preserve
to maintain one or more natural community types or native ecosystem types in a natural condition and range of variation and contribute to the protection of Maine's biological diversity
as a benchmark against which biological and environmental change may be measured, as a site for ongoing scientific research, long-term environmental monitoring and education
to protect sufficient habitat for those species whose habitat needs are unlikely to be met on lands managed for other purposes.
Ecological reserves were designated following a multi-year inventory and assessment project coordinated by the Maine Forest Biodiversity Project, with staff assistance from The Nature Conservancy, the Maine Natural Areas Program, and the Bureau of Parks and Public Lands. In addition to the ecological reserves on state lands, many other public and private organizations (e.g., The Nature Conservancy, US Fish and Wildlife Service, US Forest Service) are managing a subset of lands with similar ecological goals.
Ecological Reserves Map
Fact Sheets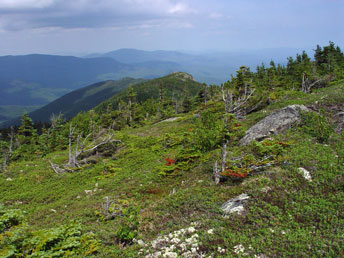 Goose Eye, looking east, Mahoosucs Unit
Reports and Monitoring
The monitoring effort is subject to funding availability; prior efforts have been supported by the Maine Outdoor Heritage Fund, The Nature Conservancy, and the Bureau of Parks and Public Lands. In addition to the existing monitoring program, the Department of Agriculture, Conservation and Forestry strongly encourages use of the Reserves for other applied research on forest structure and dynamics, rare plant species, wildlife, water quality, or other related issues. Contact MNAP for further information.