Pineland Public Lands and Bradbury Mt. State Park - Management Plan
The Maine Bureau of Parks and Lands has completed the updated 15-year management plan for the Pineland Public Lands in Gray, North Yarmouth, and New Gloucester. This effort also included planning aspects of management at Bradbury Mountain State Park in Pownal.
Adopted plan available for download:
---
What Properties are Included in this Plan?
Bradbury Mountain State Park and the Pineland Public Lands serve as the focus of this plan. The Bureau lands, easements, and trail license connecting Bradbury Mountain State Park to the Pineland Public Lands are also included in the plan, as is the historic Mayall Mills historic site in Gray.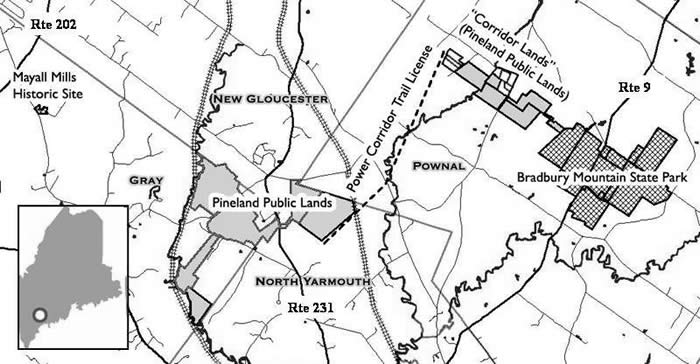 For more information:
Rex Turner
Outdoor Recreation Planner
Maine Bureau of Parks and Lands
22 State House Station
Augusta, ME 04333-0022
(207) 287-4920

---
Notes from May 26th Advisory Committee Workshop Available for Download - MS Word Doc (165KB) The first Advisory Committee meeting took place at the Pownal Town Offices and helped define broad values and specific, location based attributes needing attention in the planning process. Download to read - comments and questions are encouraged.
Notes from April 1, 2010 Public Scoping Session Now Available for Download - MS Word Doc (45KB) This public scoping session held at the Pownal Elementary School was intended to serve as a first opportunity for the public to learn about the planning process and to share a vision for the management of these bureau properties. While more public meetings will be upcoming, interested persons are welcomed to contact Rex Turner to learn more or share a perspective on the future of these lands.