Maine Snowmobile Program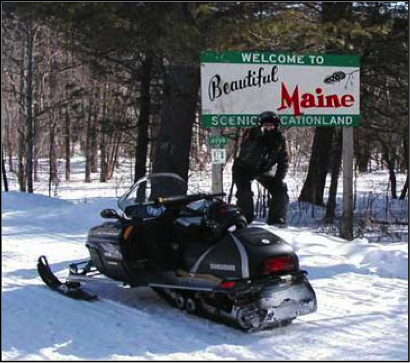 What we do:
Establish and manage trail systems:

Over 14,000 miles of interconnected trails statewide
More than 310 miles of multi-use rail trails

Serve as a liaison to snowmobile clubs, municipalities, and private landowners
Provide trail map information
Provide grants to clubs and municipalities
Provide trail signs and signage guidelines
Trail grooming guidelines and training
Most of the thousands of miles of snowmobile trails located throughout Maine are on private land and are maintained by local clubs. Cooperative agreements between private landowners, Snowmobile clubs, and the Bureau's Snowmobile Program are key to the success of the trail system.
It is important to note that without the use of private land, most trails wouldn't exist and your ability to ride is a privilege that is granted to you by the landowner. Please respect their wishes and their land as if it were your own.

Multi-use Rail Trails
Several state-owned or leased abandoned rail beds are available for multiple-use, including snowmobile use, such as the Aroostook Valley Trail, the Bangor and Aroostook Trail, and the Jay to Farmington Trail which are all owned by the Bureau of Parks and Lands.
Four additional trail systems include State groomed trails:
Mount Blue State Park, Weld
Beddington, Washington County
White Mountain National Forest, Evans Notch
Frye Mountain, Liberty
Multi-use Road Systems
Many of the Public Reserved Lands road systems are open to Snowmobile use.
If Snowmobile use is allowed on a road it will be marked with a shared use sign.
If there are designated Snowmobile trail systems they will have the regular Snowmobile trail signs on them. If roads or trails don't have these signs then Snowmobile use is prohibited!

Game Management District roads (The Department of Inland Fisheries & Wildlife) are generally open to Snowmobile use however, remember to always tread lightly and be respectful of other users of these properties.
Grants
The Snowmobile Program has funding available in the form of Club Grants and Municipal Grants to help in the construction and maintenance of Snowmobile trails, and Capital Equipment Grants for grooming equipment. We also provide insurance to protect landowners and clubs involved with Snowmobile trails. In addition we provide signs and have trail signing guidelines so that trails are basically all marked the same. These services are all provided at no cost as part of the program which is funded by a portion of the Snowmobile registration fee.
Featured Links
Related Links
Contact us
Snowmobile Program
Bureau of Parks and Lands
22 State House Station
Augusta, Maine 04333-0022
(207) 287-4957
Within Maine Only: 1-800-462-1019
Fax: (207) 287-8111
TTY: Maine Relay 711
Email: Snowmobile Coordinator