April 17, 2020 at 10:33 am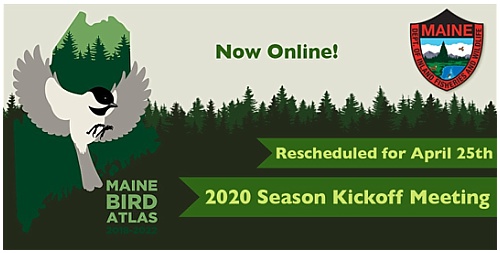 As COVID-19 continues to affect our daily lives, the Maine Bird Atlas is committed to protecting the health and wellbeing of our staff, volunteers, and community members.  We believe that feeling connected and involved in the community and empowered to be out in nature and making a difference (while still following social distancing practices) is important for getting through these difficult times.
To that end, the Maine Bird Atlas will be hosting its 2020 Kickoff Meeting online on April 25thfrom 1:00PM to 4:00PM.  Tune in to this live, free event to get your questions answered and learn about exciting results from the first two Atlas seasons, special species survey opportunities, and atlasing strategies for the coming season.  All presentations and workshops from the meeting will be recorded and available to watch or re-watch after the event.
We want to give Atlas volunteers the best edge we can this year and we can only do that through a strong, coordinated effort.  Whether you are a casual bird watcher, new to the project, or an Atlas enthusiast, please join us on April 25th!
Event Details:
Atlas topics from the basics to documenting rare birds and quality control
Strategy for whats left to accomplish
What are the Special Species and how do I find them?
Workshops (breakout sessions):

Beginner Intro to breeding codes, getting started with eBird, etc.
Intermediate Understanding block completion requirements, strategies for completing your adopted block, etc.
Advanced Block busting, tools for remote atlasing, how to become an atlas ninja, etc.

Stick around for remote happy hour with atlas staff to get any remaining questions answered, or share an atlasing story
Day: April 25th, 2020
Time: Presentations: 1:00PM, Breakout Workshops for advanced, intermediate, and beginning Atlasers: 2:30PM, Informal chat with the Atlas team: 4:00PM
Where: Online! We will use Zoom to host this meeting. If youve never used Zoom, they have some helpful training videos you can watch to prepare: https://zoom.us/resources
Registration and access:  Due to privacy and security concerns, you need to register for this event here: https://www.eventbrite.com/e/maine-bird-atlas-2020-season-online-kickoff-meeting-registration-101815962284 and we will email you a link to access the zoom meeting for this event.