May 27, 2021
Governor Mills visits Coffee By Design to promote proposal providing financial relief for small businesses and workers
During a visit to Coffee by Design in Portland today, Governor Janet Mills highlighted her proposal through the Maine Jobs & Recovery Plan to help Maine small businesses afford the cost of health insurance for their employees.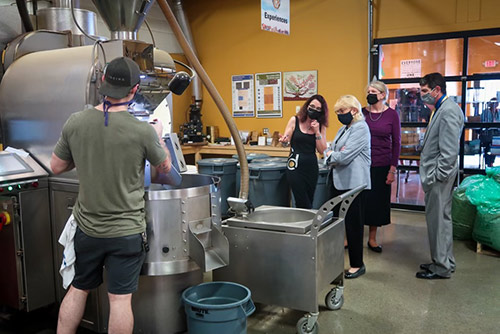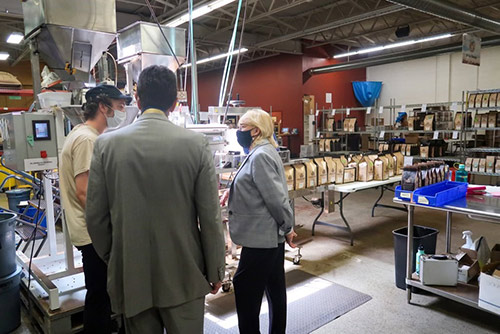 As part of the Maine Jobs & Recovery Plan, Governor Mills is proposing to create the "Small Business Health Care Cost Relief Program." Supported by $39 million in American Rescue Plan Act funds, the program would provide small businesses with short-term financial relief from rising health insurance premiums as they recover from the COVID-19 pandemic.
"Maine small businesses are the backbone of our economy, providing good-paying jobs and important benefits, like health insurance, that support the lives and livelihoods of Maine people. The pandemic has taken a serious financial toll on small businesses, as they continue to confront increased health insurance costs and are trying, like everyone, to get back up on their feet," said Governor Mills. "This program targets relief to our small businesses and their hardworking employees. By helping them both better afford health insurance, we can lighten the load for businesses, help their employees stay healthy, and keep our economic recovery moving in the right direction."

"The COVID-19 pandemic has underscored the importance of affordable, accessible, and high-quality health care," said Health and Human Services Commissioner Jeanne Lambrew. "While the American Rescue Plan helps large employers and individuals with health insurance costs, it has a gap: it does not help small businesses sustain health coverage. Maine is using unallocated state funding provided through the law to direct immediate relief to small businesses, including nonprofits and those in the hard-hit service, tourism, travel and hospitality industries."
The Governor's proposal comes after monthly health insurance premiums in the small group market, which serves businesses with 50 or fewer employees, rose by about 33 percent from March 2017 to March 2020, while the number of people insured dropped 18 percent from 61,200 to 50,200. The pandemic, meanwhile, has hurt many small businesses, reducing their revenues at a time when they are confronting increased costs, including health insurance.
"As a small business we have always prioritized the health and well-being of our staff members,"said Mary Allen Lindemann, co-founder of Coffee by Design. "It has always been a challenge to make the numbers work with health insurance being the second highest line item after coffee, but the pandemic has increased the cost of doing business in many ways which raises concerns about how to continue paying benefits we feel are a right not privilege. We applaud the Governor for her support of this program which would help us continue coverage needed now more than ever."
The Maine Small Business Health Cost Relief Program would provide short-term relief to small businesses and their employees as they recover from the pandemic by lowering the cost of monthly premiums.
Under the program, health insurers would receive financial assistance through the Maine Bureau of Insurance to reduce premiums for their small business customers by $50 per covered employee per month, beginning as soon as July 1, 2021 through December 31, 2022.
Small businesses would split these savings with their employees, based on the share of the total premium the employers and employees would otherwise pay. Employers could also choose to pass on a higher share of the savings to their employees.
For example, an employee could see their monthly premium drop by $10 while their small business employer would save $40 if employees pay 20 percent and employers play 80 percent of premiums.
"Small employers have struggled with rapidly increasing health insurance premiums for years, and many have now also seen their operations and bottom line impacted by the pandemic," said Ann Woloson, Executive Director of Consumers for Affordable Health Care. "This program will provide critical relief quickly and efficiently to small business in dire need of help."

"Small businesses have been struggling for years to cope with the constantly rising cost of health insurance. Decline in small employer market enrollment shows dramatically that the struggle has reached a breaking point for many people," said David Clough, Maine State Director of the National Federation of Independent Business. "This help will be appreciated by many small business owners and their dedicated workers. We applaud Governor Mills and her advisors for continuing to explore ways to help small employers with the constantly rising cost of health insurance."

"We consistently hear from our small businesses that healthcare for their employees is one of their largest and most unpredictable costs. Providing businesses with short-term savings from rising health insurance premiums would be welcomed relief to our small businesses who are working hard to recover from the impact of the pandemic," said Quincy Hentzel, Chief Executive Officer for the Portland Regional Chamber of Commerce. "On behalf of our 1300 members we are incredibly grateful to the Governor for including this in the Maine Jobs and Recovery Plan."

"We know that many nonprofits – mostly small organizations collectively employing tens of thousands of Mainers – have been struggling to keep up with increasing health care costs," said Jennifer Hutchins, Executive Director of the Maine Association of Nonprofits. "This direct relief comes at a critical time as nonprofits continue to address extraordinary community needs resulting from the pandemic while supporting the health and wellness of their employees."
This financial relief for small businesses is comparable to the amount of temporary relief directed by the American Rescue Plan to individuals and families who sign up for health coverage on their own through HealthCare.gov.
Founded in 1994 on Congress Street in Portland, Coffee By Design now operates three coffeehouses and runs a thriving roastery in Portland, along with a location at L.L. Bean in Freeport, and sells to nearly 600 wholesale and mail order customers around the globe. The company, which was named 2020 Roaster of the Year by Roast Magazine, employs 35 people across its locations, providing them with health insurance and benefits.
Today was Governor Mills' fifth stop across Maine to highlight the Maine Jobs & Recovery Plan, her plan to dedicate more than $1 billion in discretionary Federal relief funds allocated to Maine under the American Rescue Plan Act. Earlier this week she visited Penobscot Bay YMCA to highlight the plan's investment in child care and early childhood education opportunities. She has also visited Maine Grains in Skowhegan to highlight the plan's investment in farms and food processors and Foster Career and Technical Education Center in Farmington and Central Maine Community College in Auburn to discuss investments in workforce training programs that will strengthen Maine's economy.