May 20, 2021
Skowhegan, MAINE — During a visit to Maine Grains in Skowhegan today, Governor Janet Mills highlighted the importance of the Maine Jobs & Recovery Plan's investment in the state's agricultural community.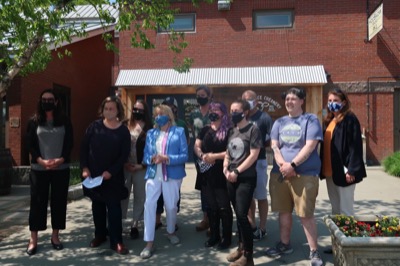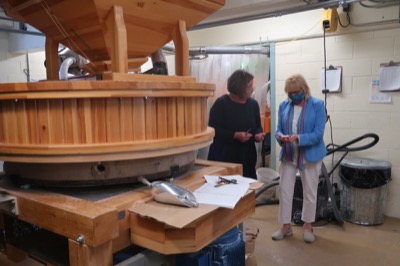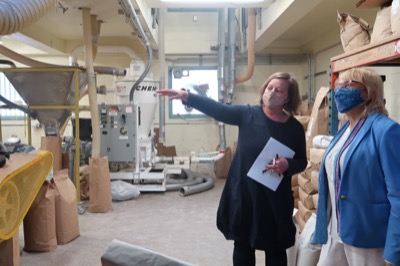 Governor Mills tours Maine Grains in Skowhegan, led by owner Amber Lambke, and meets local business owners. 
The Governor has proposed investing $20 million to help Maine farmers and food processors upgrade aging infrastructure, which will support the growth of Maine's agricultural sector by helping them increase the supply of Maine-grown food to meet growing demand – creating and sustaining jobs in one of Maine's iconic heritage industries, strengthening the economy, and deepening Maine's national reputation for food excellence.
The proposed investment comes after farmers and food producers surveyed by the Maine Department of Agriculture, Conservation and Forestry (DACF) indicated that storage, processing, and packaging capacity investments were critically important to the strength of the agricultural community and the statewide economy.
"When we grow and raise our own healthy food, in our own fields and waters, and sell it through our own shops to our own neighbors and friends – well that's a recipe for a healthy people and healthy economy," said Governor Janet Mills. "Our farmers and food processors have told us they can deliver Maine-grown food to more people if they're able to upgrade their equipment. With funds through the Maine Jobs & Recovery Plan, we can deliver that help and they can then deliver to all of us and the world over healthy food, all while creating jobs and strengthening our economy."
As part of her visit today, Governor Mills toured Maine Grains, a gristmill opened in 2012 in a former county jail. Maine Grains provides bakers, brewers, chefs, and families with locally-sourced, freshly-milled organic grains. By sourcing grain from local farms, milling it locally, and partnering with local food ventures, Maine Grains is supporting the health and livelihood of farmers, creating jobs, improving land use, and providing healthy food while serving as a successful model for thriving local economies.
"Here in central Maine, agriculture is both a way of life and a center of entrepreneurial innovation and job creation," said Amber Lambke, founder and owner of Maine Grains. "Here at Maine Grains, we have been successful redeveloping a grain economy that benefits the 45 farms that grow grain for us, our hard-working employees, and the bakers, brewers, chefs, livestock producers, pasta makers, pizza dough makers, ice cream sandwich makers, and others that invest in our freshly-milled grains. Through this challenging year we have seen just how critical our ability to process, package and distribute local food is to our resilience. We are thrilled by Governor Mills' Maine Jobs and Recovery Plan and her support of agriculture in Maine."
Maine is home to 7,600 farms of all sizes, scales, and agricultural practices. Before the pandemic, the aging infrastructure hindered the ability of Maine's farmers and food processors to meet a growing demand for local food. The pandemic exacerbated these challenges when market and supply chain disruptions forced producers, processors, and value-added businesses, like Maine Grains, to adapt rapidly to access new markets and distribution channels.
To sustain farmers and food producers during the pandemic, the Mills Administration distributed more than $18 million in federal CARES Act Coronavirus Relief Funds (CRF) to 609 farms, food processors and producers, food banks and pantries.
"A significant opportunity exists to grow the food and farming economy while developing needed infrastructure that also benefits our local food system," commented DACF Commissioner Amanda Beal. "The Governor's Maine Jobs & Recovery Plan will drive growth, encourage innovation, and foster resilience through investing in this important sector"
The Governor's investment comes in the wake of recommendations from the Governor's Economic Recovery Committee and the State's 10-Year Economic Development Strategy that call for investment to bolster Maine's farming, fishing, and forestry heritage industries. The Maine Jobs & Recovery Plan, the Governor's proposal to dedicate more than $1 billion in discretionary Federal relief funds allocated to Maine under the American Rescue Plan Act, delivers on those needs.