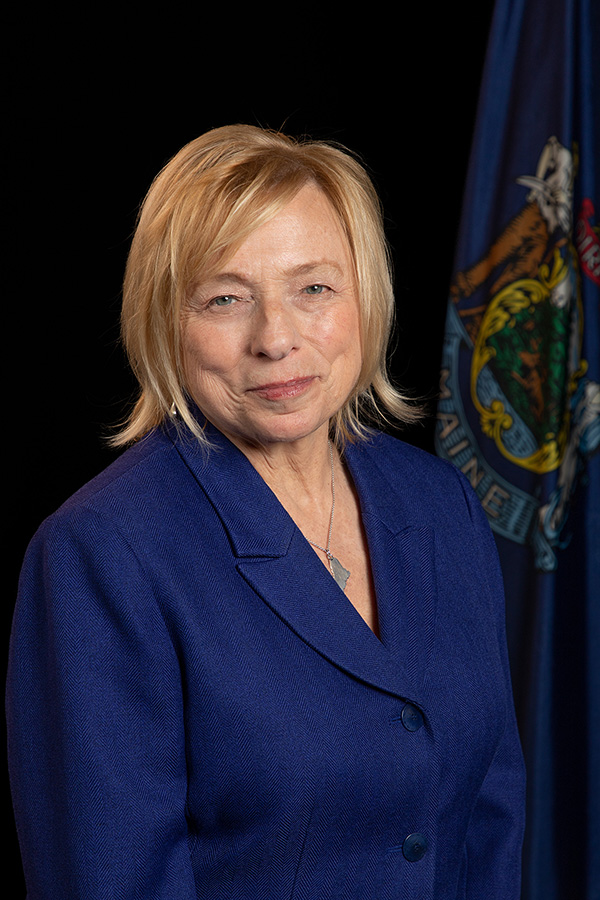 Janet Trafton Mills was sworn in as the 75th Governor of Maine on January 2, 2019.
Governor Mills is the first woman governor of Maine. In her historic victories, she earned more votes than any governor in Maine history and is the first governor since 1970 to be elected with a majority of the vote for both terms in office.
As Governor, she led Maine through a global pandemic with nation-leading results, including one of the highest vaccination rates and one of the lowest death rates in the country, protecting the lives and livelihoods of Maine people.
Under her leadership, Maine's GDP has grown by 10.1 percent – the 9th best rate of growth in the nation and the best rate of growth in New England. In fact, Maine has experienced more economic growth over the last four years than it did in the preceding fifteen.
She has expanded health care to more than 90,000 Maine people, cut the uninsured rate by more than any other state in the nation, enacted legislation that has brought down small business health insurance premiums for the first time in more than two decades, fully funded schools for the first time in Maine history, raised the minimum teacher salary, delivered free community college, cut taxes for Maine retirees, increased the Rainy Day Fund to more than $900 million, and provided significant tax relief for Maine people, among many other bipartisan accomplishments.
Through her Maine Jobs & Recovery Plan, she is focused on addressing Maine's longstanding workforce shortage, investing millions of dollars in job training programs and initiatives to build more housing for Maine people.
Governor Mills was born in Farmington, Maine, which she still proudly calls home today. The granddaughter of Aroostook County potato farmers and the daughter of a long-time high school English teacher and U.S. Attorney for Maine, she learned the value of hard-work at an early age, venturing out in the early morning to deliver newspapers and serving meals in the evening at the local diner. She graduated from Mt. Blue High School in Farmington, the University of Massachusetts at Boston, and the University of Maine School of Law.
In 1985, she met and married the love of her life, her husband, Stan Kuklinski, a widower with five young daughters ages four to sixteen. They moved back to Farmington, and she became a full-time parent and helped raise their daughters while working full-time herself. She is now the proud grandmother to three grandsons and two granddaughters. Following a devastating stroke, Stan passed away in 2014.
Janet first entered public service as an Assistant Attorney General, where she prosecuted homicides and other major crimes. She later was elected District Attorney for Androscoggin, Franklin and Oxford Counties, the first woman to be elected as a DA in New England. In that role, she saw firsthand how the criminal justice system frequently failed victims of domestic violence. Frustrated by the Legislature's failure to act, she co-founded the Maine Women's Lobby to advocate for battered and abused women and won election to the Maine House of Representatives herself in 2002.
In 2008, she was elected by her colleagues to serve as Attorney General of Maine, the first and only woman to hold the job. She served as Attorney General from 2009 to 2011 and again from 2013 to 2019. As Attorney General, she made it her mission to stand up to those who have tried to exploit Maine people—from fighting dishonest mortgage lending companies to help keep Maine people in their homes, to fighting big Pharma for their role in creating the opioid crisis and then using that money to purchase overdose-reversal kits that have saved more than 1,000 lives, to fighting to protect health care coverage for young adults.
As governor, she is fighting to see that every Maine person has affordable, high-quality health care, that Maine has a strong economy with good-paying jobs in every part of the state, that every Maine child has access to a world-class education, and that Maine is a place where families can put down roots and raise their kids.
She is a pragmatic problem-solver, focused on bringing Democrats, Republicans, and Independents together to find consensus and move Maine forward -- strongly believing that no one has a monopoly on good ideas.