May 25, 2021
Governor Mills promotes Maine Jobs & Recovery Plan's investment to expand child care capacity, a key complement to the Administration's work to make child care more widely available for working Maine families
During a visit to Penobscot Bay YMCA in Rockport today, Governor Janet Mills highlighted the importance of the Maine Jobs & Recovery Plan's investment in accessible, affordable, and high-quality child care and early childhood education opportunities in Maine.
Through the Maine Jobs & Recovery Plan, Governor Mills is proposing investing $20 million to help Maine communities renovate, expand, or build new child care facilities and expand early childhood education programs. This is part of the Governor's historic Child Care Plan for Maine (PDF) that utilizes approximately $120 million in dedicated child care American Rescue Plan funds, on top of $50 million in previous COVID-19 pandemic assistance, to help Maine's child care system recover and improve child care quality, accessibility, and affordability over the long-term.
The Governor's proposal comes as a recent analysis by the Bipartisan Policy Center found that close to 5,000 Maine children with working parents, mainly in rural areas, do not live near a child care program. Investment in child care was also a key recommendation of the Governor's Economic Recovery Committee and the State's 10-year Economic Development Strategy to attract new families to Maine, allow parents to stay in the workforce, and assist employers in finding skilled workers.
The Federal Reserve Bank of Boston has said that problems securing child care lower worker productivity and cost U.S. employers and working parents billions of dollars annually. Moreover, job stability and family income directly affect a child's social, physical, and emotional health. Access to high-quality, affordable child care is critical both in the support it provides to working parents and the benefits to children educationally, socially, and emotionally when they have a nurturing and safe environment.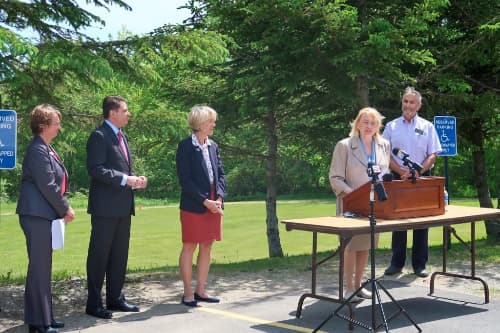 The Governor's call for more child care and early childhood education opportunities came during a visit to Penobscot Bay YMCA in Rockport. As part of its programming, the Y offers infant care, toddler care, preschool care, and child watch programs that provide kids with a nurturing, safe place to learn foundational skills. Melissa Bellew, the President and CEO of Penobscot Bay YMCA, led Governor Mills and Todd Landry, Director of Maine's Office of Child and Family Services, on a tour of the facility.
"Our economic recovery depends on every available person entering and staying in the workforce. A lack of access to affordable child care should not be the barrier that keeps someone from starting a new business, from taking a new job, from moving to a rural community. It should not be a barrier to a child's development," said Governor Janet Mills. "The Maine Jobs & Recovery Plan and the American Rescue Plan make the biggest investment in child care Maine has seen in decades. With these game-changing funds, we can give working families what they need to provide healthy, safe child care for their kids that allows them to go to work, bring home a paycheck, and strengthen our economy."
"Without the Governor's guided, deliberate fiscal support, we may have been forced to close. But thanks to the leadership and foresight of her Administration, and their financial support for child care throughout this pandemic, this YMCA's child care facilities in both Rockport and in Rockland remained open," said Melissa Bellew, President and CEO of Penobscot Bay YMCA. "Investment in child care growth and staffing will support our state's families and drive our economy. Without safe and affordable child care, our socio-economic engine will grind to a halt. For us, nothing is more critical than providing quality, safe, affordable, accessible child care to our communities, and we look forward to what is available to child care sites like our Y through potential allocation of American Rescue Plan dollars."
"Accessible, high-quality child care has never been more vital to the growth and development of Maine children and the success of our economy," said Todd Landry, Director of the Office of Child and Family Services. "These historic investments through the Maine Jobs & Recovery Plan and the American Rescue Plan, on top of support provided prior to and throughout the pandemic, position Maine to help working families in unparalleled ways."
The Governor's proposed investment has garnered broad support:
"The expansion of quality child care for Maine's workforce is a priority for the Maine State Chamber of Commerce," said Dana Connors, President of the Maine State Chamber of Commerce. "Building a world class child care system is a key component of Maine's 10-year economic strategy and plan. We applaud these investments proposed by the Governor in the Maine Jobs and Recovery Plan as a critical step for getting us closer to reaching this important goal."

"The pandemic has shown how critical child care is to the Maine economy, Maine families and Maine workers, particularly women," said Betsy Biemann, CEO of Coastal Enterprises Inc."Center-based and family-based child care programs have been battered by the pandemic and changing needs of families. Financial support for child care programs was recommended by the Economic Recovery Committee and will help centers to stabilize and survive during this challenging period."

"The Maine YMCAs are proud of the work our early educators and staff have done for years, including through the pandemic under unimaginably challenging circumstances," said Meg Helming, Director of Advocacy and Impact at the YMCA Alliance of Northern New England. "The national and state recognition of the importance of child care gives us hope for the future. With federal funding, and plans and proposals from state leaders, we are excited for grants to expand and build child care facilities, support for families to access child care and other services, workforce supports to improve wages, benefits, and career pathways for early educators and staff, and the regional coordination and collaboration that is possible to better serve children and families. We thank the Governor and her Administration for their support of this critical sector that supports Maine families and our economy."

"This past year has shown us how important a healthy, sustainable child care system is to Maine's children and families," said Deborah Arcaro, Chair of the Family Child Care Association of Maine. "It is important that Maine uses funds coming into the state to support the retention of a diverse child care workforce, building the quality of programs, and strengthening the statewide child care infrastructure. For new family child care providers, the availability of funds through the infrastructure grants are important in helping them ensure safety standards are met and their programs are equipped to offer quality programs."

"Members of Council for a Strong America's constituent organizations, including the business leaders of ReadyNation, law enforcement leaders of Fight Crime: Invest in Kids, and retired admirals and generals of Mission: Readiness, thank Governor Mills for her leadership and for prioritizing child care as a funding priority through the use of historic federal pandemic relief funds," said Kim Russell, Maine State Director of the Council for a Strong America. "Our members have long advocated for increased funding in the critical child care sector as a way to improve Maine's economy, keep our communities safe, and strengthen our national security. We look forward to continuing to work with Governor Mills and the legislature to support investments that sustain and grow Maine's child care workforce while improving child care quality and access for children and their working parents across all regions of our state."
Maine is expected to receive an additional nearly $120 million in Federal funds through the American Rescue Plan for child care, as part of what the White House describes as the single biggest national investment in child care since World War II. This investment, combined with another estimated $8.4 million Maine expects to receive through an increase in Federal block grant funding, totals nearly $130 million that Maine will use to support one of the goals of the Children's Cabinet: increasing access to high-quality child care and expanding Maine's child care workforce.
These investments build on the Mills Administration's efforts to support Maine families' access to child care before and during the pandemic, including helping low-income parents who receive subsidies by waiving their contribution to child care fees, distributing $10 million in federal CARES Act funding directly to providers through stipends and grants, and making available $8.4 million in Coronavirus Relief Funds to reimburse providers for COVID-19-related business costs. The state additionally maintains the Child Care Choices website, which allows families to locate and connect with providers in their area.

In Maine, 96 percent of child care providers are open statewide, up from a low of just over 50 percent at the start of the pandemic. Approximately 10 percent of all providers have recorded a single positive COVID-19 test within their facility since the start of the pandemic.
In 2019, Governor Mills reinvigorated Maine's Children's Cabinet, which continues its work toward the goals of ensuring that Maine children enter Kindergarten prepared to succeed and that Maine youth enter adulthood healthy, connected to the workforce and/or education.
Today was Governor Mills' fourth stop across Maine to highlight the Maine Jobs & Recovery Plan, her plan to dedicate more than $1 billion in discretionary Federal relief funds allocated to Maine under the American Rescue Plan Act. She has visited Maine Grains in Skowhegan to highlight the plan's investment in farms and food processors and Foster Career and Technical Education Center in Farmington and Central Maine Community College in Auburn to discuss investments in workforce training programs that will strengthen Maine's economy.