MaineFlu.gov
2020-2021 Season
Influenza (the flu) is a serious disease that can lead to hospitalization and sometimes even death. Anyone can get sick from the flu, but certain people are at greater risk for serious complications from the flu, including:
2020-21 Start of Season Conference Call Talking Points (Word) | also as PDF

Influenza is preventable, always follow the "No Flu 4 You" guidelines to help keep yourself and those around you healthy.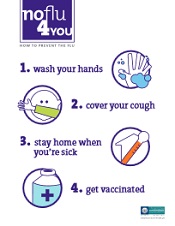 No Flu 4 You
Wash your hands
Cover your cough
Stay home when you're sick
Get vaccinated
For Influenza data, see our Influenza Surveillance Reports
Flu vaccine for the 2020-2021 season is now widely available. Vaccination is recommended for all people older than six months. It takes about two weeks after vaccination for it to take full effect. To find a flu clinic, search your zip code on flushot.healthmap.org or cdc.gov/flu or search the listings on 211maine.org.
The Vaccine Information Statement (VIS) for this year's vaccine are posted online

.
ME CDC Pandemic Influenza Operations Plan
ME CDC Pandemic Influenza Operations Plan
Flu Updates
Resources and Information