Childhood Lead Poisoning
Homeowners

Is your home putting your family at risk for lead poisoning?
Learn how to renovate, repair, paint and do other home projects safely.
Is my home putting my family at risk for lead poisoning?
If your house was built before 1950 it is very likely that it contains lead paint.
Any building built before 1978 may have lead paint.
Dust from lead paint is the most common way children in Maine are poisoned.

Lead paint was often used inside homes around windows, doors, trim and on painted floors.
It was also used on the outside of houses, such as doors, windows, wood siding, trim, porches and stairs.
Lead paint can turn into lead dust from the normal wear and tear of daily living such as:
Opening and closing wooden windows.
Weathering and aging of paint, from sun, rain and winter weather.
Closing a door, walking on a painted floor, hitting trim with a piece of furniture.
Scraping, sanding, or grinding paint can make a lot of lead dust very quickly.
This dust can blow in windows, stick on your clothes and shoes and spread around your house.

Either assume your older home has lead paint, or test to make sure.
Use the following tips to live safely in an older home.
Ways to keep my home lead-safe.
Keep the paint in your home in good condition.

If your children are young, do touch up work and put off big renovations until they are older. Make sure your children are out of the room when you do touch up work. Protect yourself by wearing proper protective gear and protect your family by working lead safe.Make sure you clean the work area, yourself and your tools so you don't move lead dust around.

See Essential Maintenance for a Lead Safe Home

for more information on how to keep your home lead-safe.


Moisture and Water:

Take care of any water leaks or moisture problems in your home as quickly as possible. Moisture can cause paint to break down faster.

Cleaning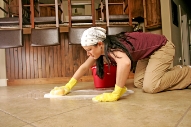 Vacuum and damp mop to clean. Don't sweep, it moves lead dust around. Use an all purpose cleaner in your wash water and change your wash water often to help get rid of the lead. Flush the dirty water down the toilet. Rinse the bucket and mop well. Mop again with water (no soap) to remove as much lead dust as possible.
Click here for a Step-by-Step Guide (Adobe PDF*) on how to clean thoroughly.
How do I renovate, repair or paint my house in a lead-safe way?
Hiring a Contractor
To renovate or repair your house safely, you can hire a contractor. Contractors that disturb lead paint in homes built before 1978 must be certified by the U.S. Environmental Protection Agency (EPA) under the EPA's Renovation, Repair and Painting (RRP) rule. RRP certified contractors know how to work safely around lead paint. They have been trained to reduce lead paint dust, prevent lead paint dust from traveling outside the work area, and properly clean up.

Many kinds of contractors need the certification. Examples are general contractors, carpenters, electricians, plumbers and painters. Prices for home repairs may be more to cover the costs of materials.
You should ask to see your contractor's Renovation, Repair and Painting certificate. To find a certified contractor, use the EPA's searchable database

.
If you want to remove lead paint permanently, you can hire a lead abatement expert. To find a lead abatement professional, see the Maine Department of Environmental Protection's list of licensed lead abatement professionals and other resources

for homeowners interested in hiring lead professionals.

Always ask for references and see the Maine State Attorney Generals Model Contract

. Make sure the contract states they will used lead-safe work practices. See Contract Specifications for Lead Safe Renovation

Lead-Safe Do-it-Yourself Home Projects
Lead safe work practices aren't hard or very expensive, but they take a little more planning, time and materials.
The basics steps of lead safe work are:
Protect your family and neighbors.
Prepare your work area.
Protect yourself from lead dust.
Work wet.
Work clean.
"Lead Paint Safety A Field Guide for Painting, Home Maintenance, and Renovation Work

(PDF*) is a booklet produced by the US Dept. of Housing and Urban Development. It is an excellent guide to working lead safe in an older home.
"Don't Spread Lead"

(PDF*) is a do-it-yourself guide to lead-safe painting, repair and home improvement. You can download the booklet and watch the video

. To request a CD showing how to work lead-safe, contact Maine DEP Lead Hazard Prevention Program at 1-800-452-1942.
Can I test my home for lead?
There are several ways to test your home for lead. Some tests you can do yourself. These tests only tell you if there is lead paint on the surface. Hiring a professional lead inspector will identify all the lead in your house and will cost more.

Household Lead Test Kit:
You can buy household lead test kits at a hardware store. These tests only test the paint they touch. They will not tell you if there is lead paint COVERED by a layer of non-leaded paint. These tests work best on woodwork that is already chipped so you can test all the layers of paint.

Lead Dust Tests: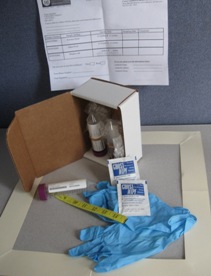 We offer free home lead dust test kits to families with young children or children on the way. The simple and quick kit is a great way to find out if you have a lead dust problem. Then you take some simple steps to keep your child safe from lead. Order a free home lead dust test kit. Watch our video

to see how to do the test.

Soil and Water Tests:
You can also test for lead in soil by contacting the State Health and Environmental Testing Lab (287-8014)
or the University of Maine Extension

. Soil around old houses often have high levels of lead. Keep children away from dirt next to buildings. If you child plays in an areas with bare soil, you can test that soil for lead. You may also want to test your garden soil for lead.

Public water supplies are tested for lead. You can contact them to find out the test results. If your water comes from a private well, you should test it for lead and other problems

.

Professional Lead Inspectors:
You can hire a lead professional to test your home

. They have equipment that allows them to measure lead in paint, even if it is covered. They can test the whole home or selected rooms. They can also do soil, dust and water testing.
While this is the most expensive option, it is the most thorough.
Where can I find more information?
| Document/Resource | Source | Size | Type |
| --- | --- | --- | --- |
| Hire RRP Certified Contractors to Renovate, Repair or Paint Your Home | Maine Childhood Lead Poisoning Prevention Unit, Maine CDC, DHHS | 172KB | PDF* |
| Looking for Lead | Maine Childhood Lead Poisoning Prevention Unit, Maine CDC, DHHS | 336k | PDF* |
| Don't take lead home from your job! | Maine Childhood Lead Poisoning Prevention Unit, Maine CDC, DHHS | 150KB | PDF* |
| Testing Your Child For Lead | Maine Childhood Lead Poisoning Prevention Unit, Maine CDC, DHHS | 99KB | PDF* |
| Cleaning Up Lead Dust | Maine Childhood Lead Poisoning Prevention Unit, Maine CDC, DHHS | 148 KB | PDF* |
| U.S. EPA Renovation, Repair, Painting Rule and Certification | U.S. Environmental Protection Agency | N/A | Web |
| Maine Department Of Environmental Protection (DEP) Lead Hazard Prevention | Maine Department of Environmental Protection | N/A | Web |
| Lead Paint Safety: A Field Guide For Painting, Home Maintenance, & Renovation Work | U.S. Housing and Urban Development | 1.3 MB | PDF* |
| Protect Your Family From Lead In Your Home | U.S. Environmental Protection Agency | 2.1 MB | PDF* |
| Fight Lead Poisoning With a Healthy Diet | U.S. Environmental Protection Agency | 1.3 MB | PDF* |
| Don't Spread Lead - English | NE Lead Coord Committee | 800 kb | PDF* |
| Don't Spread Lead - Spanish | NE Lead Coord Committee | 800 kb | PDF* |
| Don't Spread Lead - Video (You Tube) | NE Lead Coord Committee | | |