Weights and Measures Inspections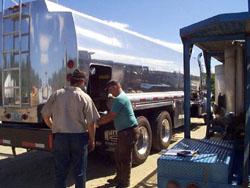 Adjusting a home fuel delivery truck meter
Weights and Measures inspections maintain uniformity where weighing and measuring forms the basis for payment in commercial transactions within the State of Maine, by testing and evaluating weighing and measuring devices, by investigating cases of fraud, and by providing training, supervision and calibration services to municipalities which have local Weights and Measures Sealers. Provides traceability of the State's Measurement Standards to the National Standards and ensures that this traceability is transferred to business and industry within the State of Maine.
Individuals interested in being appointed by a municipality as a sealer of weights and measures can find the applicable laws and requirements under Title 10, Chapter 501, Subchapter 4-A: Local Sealers.
Professional Certification Program
The required certifications in the National Conference on Weights and Measures (NCWM) professional certification program can be found in the links below.