Permits and Licenses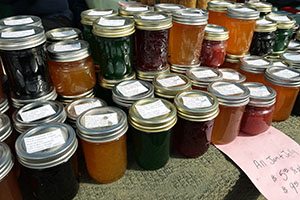 Licensing your food business ensures the public that your food products are made in a facility that meets important sanitation requirements. Consumers will be assured that the products have been produced in a clean, sanitary, and inspected facility with running, potable water and appropriate surfaces, utensils, and equipment.
The Department of Agriculture, Conservation and Forestry supports Maine's local food economy and the entrepreneurs who wish to build their food businesses. With over 7,500 licensed food businesses in Maine, we know that licensing provides benefits to these businesses and their customers. Our inspection staff will work with you to provide helpful information, food safety education, and support. We want your business to succeed.
Questions? Contact us!
Applications & Forms
Food & Fuel
Food and Fuel License Application (DOC 236KB)

Home Food License 101 (PDF) - A home food license is a valuable tool to have in your arsenal. It allows you to produce and sell shelf-stable food products from your home and at wholesale throughout the state of Maine and the United States. It creates consumer confidence that the products you make in your home kitchen are safe to eat.
Mobile Vendor License 101 (PDF) - A mobile vendor license allows you to sell prepared, packaged foods in numerous settings, such as farmers' markets and fairs. This helps expand your food business' universe of sales and customer access. This type of license is important because storing, transporting, and holding prepared foods may require appropriate temperature control for proper food safety.
Dairy
Feed, Seed & Fertilizer
Weights & Measures
Fruits & Vegetables