Federal/State Inspection Service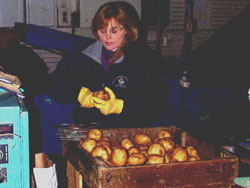 Inspecting potatoes
The Federal/State Inspection Service is a State of Maine team that operates under cooperative agreement with the USDA and the FDA to perform key produce inspections and to provide assessment and determination of produce quality for producers. Our job is to provide honest, objective, and accurate inspections and audits to fruit and vegetable producers and handlers. The Fed/State Inspection Service has four main programs:
USDA commodity crop inspections, determining the quality of fresh fruits and vegetables and issuing certificates of grade, size, weight, quality and more according to USDA standards and protocols.
USDA GAP/GHP audits, performing audits of Good Agricultural Practices and Good Handling Practices on farms and for fresh produce operations across the state.
USDA easements for export, inspecting product and issuing necessary certificates to export fresh produce to Canada and other countries.
Implementation of the Food Safety Modernization Act (FSMA)'s Produce Safety Rule, providing outreach and education about food safety on produce farms, and performing Produce Safety Rule inspections for covered farms under FDA authority.
Our USDA inspections and audits are performed at the request of the applicant and charged as fees-for-service. The Federal/State Inspection Service provides inspection to objective standards of produce quality and conformity according to USDA program protocols.
Our role in the FSMA Produce Safety Rule work is both educational and regulatory. We are responsible for performing the regulatory inspections for farms covered by the Produce Safety Rule and for working with the FDA to structure compliance actions where needed. Inspections are performed under FDA authority, by Maine State inspectors credentialed by the FDA, and are done according to FDA and State protocols.
We are also tasked with education and outreach to Maine's farms and produce sector to help farms learn more and get ready to implement food safety measures on-farm. There are no fees for our FSMA Produce Safety Rule inspections, or for our farm consultations and outreach for this Rule.
Our team is based in Presque Isle and travels state-wide to perform our duties. For more information about any of our programs please call: 207-764-2100. We are happy to answer any questions you may have.