Home → Frequently Asked Questions
Frequently Asked Questions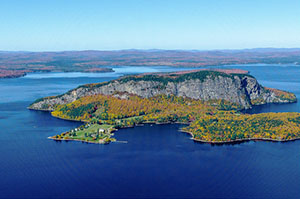 Mount Kineo

---
Where should I go if I'm coming to Maine during the week of:
Please note that this is a generalization of when you might expect near peak or peak conditions in the above mentioned regions.
September 24 - October 6: Regions: Northern (Zones 6 & 7) , Zone 5 (Northern half)
Maine's hillsides are beginning to blush with more than half of the trees displaying fall colors. The best locations to leaf peep are anywhere in northern Maine, like Aroostook State Park, Route 11, Eagle Lake Public Reserved Land unit, Pittston Farm, Kineo and Rockwood.


October 6 -13 : Regions: Western Maine (Zone 5)
This is the best week for peak color in central Maine. Fall foliage color is in full swing in western and central Maine: Visit Grafton Notch State Park, Route 17 near Richardson Lake, Bigelow Preserve, Route 27/16 in Carrabassett Valley, Cathedral Pines Rest Area in Eustis, Rangeley, the lookout from Eustis Ridge, Mt. Blue State Park in Weld, Tumbledown Mountain Range, Greenville, Moosehead, Jackman, Lily Bay State Park, Rockwood, Sebec Lake and Dover-Foxcroft.

October 14 - 20: Regions: Central Maine (Zone 3), Eastern (Zone 4)
Best week for peak color in western and southern Maine This is one of the peak weeks for leaf peeping as peak conditions are coloring Maine hillsides. Visit Fryeburg, Skowhegan, Farmington, Rumford, north of Portland and the greater Augusta area.

October 21 - 27: Regions: Southern (Zone 1), Eastern Coast (Zone 2)
Best week for peak color in southern and coastal Maine. Find peak color south of Portland, Sebago Lake region, Bridgton, Limerick, Waterboro, Kennebunk, Kennebunkport, Wells and York.

Where and when can I see peak color in Maine?
Northern Maine: Last week in September, into the first week of October.
Central and Western Maine: Second and third week of October.
Coastal and Southern Maine: Third Week of October
See When & Where to Visit for a chart of historical peak foliage dates, and more trip-planning information.
Can I get more information about Maine trees?
View our Maine Tree Guide and Maine Forest Facts pages. For more information please visit www.maineforestservice.com.

Visit Be Woods Wise for more information about managing trees on your land.
Springtime and plenty of chlorophyll.
Each spring leaves contain green, red, orange and yellow pigments. Throughout the summer, the green is dominant due to chlorophyll production.

Day length, rainfall and sugar.
Many factors influence autumn coloration and the most important being day length, followed by rainfall, sugar accumulations in the leaves, wind, and prolonged periods of cool, bright, sunny autumn weather without a killing frost. The brighter the light during this period, the greater the production of these pigments.

Cool autumn days.
When the days of autumn are sunny and cool, the nights chilly but not freezing, the brightest colorations usually develop. This is when the production of chlorophyll , which is created by sunlight during photosynthesis, slows down.

Autumn colors.
As sunlight hours decrease, the green starts to disappear and the other pigments - red, orange, yellow, scarlet and purple - come alive!

Getting ready for winter.
Meanwhile the tree produces a waxy substance to protect itself from the elements once a leaf separates from the branch. That's why leaves can withstand strong wind and rain during the summer, but come down so easily during a fall rainstorm. The key is to get a picture of your favorite tree when you see it: don't wait!
Here's a guide to the species of trees and the color they produce during autumn:

Yellow:
Green and black ash, basswood, beech, birches, butternut, and elm. In the maple species - boxelder, mountain, silver, striped and sugar. And don't forget mountain ash, poplar, serviceberry, willow, and witch hazel.

Red and Scarlet:
Red, mountain, and sugar maples; black, red, scarlet and white oak; hornbeam, sumac and tupelo.

Brown:
White and black oak

Purple:
White ash and witch hazel.

Visit the Maine Tree Guide for more about Maine trees and coloring book pictures of Maine tree leaves!
How do I preserve leaves?
There are different ways to preserve leaves. Our suggestion:

Make a solution of one-third glycerine and two parts boiling water. Place the stems in the solution while it's still hot. Keep the leaves in the solution over night. Remove and dry the next day.

To press leaves, place them between sheets of newspaper and place them under something heavy, like a stack of books. You can also press leaves with a warm iron. Place leaves between tissue or wax paper first. The color will last longer if you keep leaves out of direct sunlight and away from the air.

Where can I purchase a Maine State Parks season/vehicle pass?
There are multiple ways to purchase a Maine State Parks season/vehicle pass.

Purchase Online: Passes are mailed within 7 business days.

When you file your State of Maine income tax.
When you first visit a park this summer.
By calling the Department of Agriculture, Conservation and Forestry Campground Reservations Call Center at: 800-332-1501 for Maine Residents, 207-624-9950 for non-residents, or 207-287-2209, from 9AM to 4PM, Monday-Friday.
By visiting the Augusta Office, Department of Agriculture, Conservation and Forestry, Bureau of Parks and Public Lands, Harlow Building, 18 Elkins Lane (AMHI Campus), Augusta, Maine, from 9 a.m - 4 p.m.
By mailing a check or money order to: Department of Agriculture, Conservation and Forestry, Attn.: Reservations Office, 22 SHS, Augusta, ME 04333-0022. Make your check payable to: Treasurer, State of Maine.