Public Scanning at the Maine State Library
Available Scanners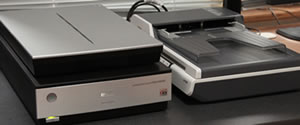 Image scanner, left; document scanner, right.
There are two scanners available to the public. One is a high quality image scanner designed for use with photographs, slides, and film negatives. It has a surface area of 8.5" x 11.7"
The second scanner is for documents. It is useful for single pages or for multi?page manuscripts. The surface area is 5.9x5.9 to 8.5x14.
Why Scan?

From stone tablets to papyrus, from velum to paper, from disks to the cloud, how we store and access information has evolved along with civilization. Now firmly in the 21st century, it is clear that transferring materials from print to digital formats is necessary and inevitable. The trend to digitization represents just one facet of the future of libraries. Another equally important trend is for libraries to become a space in which the public not only uses information but also creates it. Providing public use digital scanners and the training to use them is a clear path towards both these futures.
What you need to get started
To use the scanning facilities at MSL you should:

Flash drive
Call ahead. 287-5600 The lab is open during our normal hours of operation but the room it is in is also used for other purposes. Calling ahead will guarantee the lab is available and that someone will be here to help you get started.
Bring a flash drive. You must save your pictures to a portable drive before you transfer them to a printer or the internet.
Bring the items you want to scan.
Your imagination and your patience.
Public scanning is available at the Maine State Library through the generous support of the Friends of Maine Libraries and the Maine Community Foundation. Additional support is provided by the Friends of the Maine State Library.