April 6, 2021
Maine to host New England's second mobile vaccination unit capable of delivering at least 250 shots per day
The Mills Administration and the Federal Emergency Management Agency (FEMA) announced today a partnership to launch a groundbreaking mobile vaccination unit that will provide COVID-19 vaccinations to people in rural and under-served communities across Maine.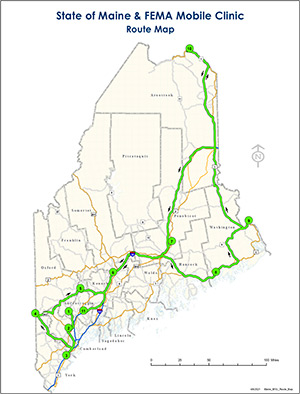 The mobile vaccination unit (MVU), which is only the second of its kind in New England, will begin providing COVID-19 vaccines to Maine people starting next Monday, April 12, 2021, at the Oxford Casino in Oxford. The MVU will then travel to ten additional rural or under-served communities across Maine - including Fryeburg, Calais, and Madawaska, among others - over the next two months. The MVU is expected to vaccinate at least 250 people per day, utilizing the one-shot Johnson & Johnson vaccine in order to maximize efficiency.
"This mobile vaccination clinic is another important tool for our state as we work to get shots into arms as fast as we can," said Maine Governor Janet Mills. "The clinic will complement our existing vaccination efforts well and allow people in rural communities to more easily get the vaccine, protecting their health and that of their loved ones and helping us to win the fight against COVID-19. I am grateful to the Biden Administration for its commitment to partnering with states to get people vaccinated and to FEMA for their outstanding work to deliver on that promise."
"We're excited to partner with the State of Maine on this joint effort to provide a vaccine to people in America who want one," said Paul Ford, Acting Regional Administrator and Federal Coordinating Officer for COVID-19 in FEMA Region 1. "The ability for this unit to travel to hard to reach populations and meet people where they are is a great asset to support the residents of Maine and continue the fight against COVID-19."
The Mills Administration requested FEMA's support with Maine's vaccination efforts after the Biden Administration committed to deploying Federal resources to assist states with getting shots into arms. The State and FEMA ultimately pursued a mobile vaccination unit in order to achieve two primary goals: 1) to reach rural and under-served communities, and 2) to complement large- and small-scale vaccination clinics already underway.
The eleven communities were determined by the Maine Department of Health and Human Services, the Maine Emergency Management Agency, and FEMA in part based on the U.S. Centers for Disease Control and Prevention's Social Vulnerability Index, which utilizes 15 U.S. census variables to help local officials identify communities that may need support before, during, or after disasters.
Appointments are required to receive a vaccination at the MVU. State, county, and local partners - including municipalities and community-based organizations - are coordinating outreach to local Maine residents, particularly high-risk and vulnerable residents, in each of the host communities to assist with scheduling appointments for locals. To check appointment availability at the Oxford Casino site, Oxford County residents may call the State's Community Vaccination Line at 1-888-445-4111. Information on scheduling appointments at the other stops will become available on the state vaccination website in the coming days.
"We are honored to work with FEMA, the State of Maine, Oxford County and local authorities to bring COVID-19 vaccines to more people in Oxford Hills," said Jack Sours, General Manager & Vice President for Oxford Casino Hotel & Event Center. "This endeavor continues our commitment to safety and being a strong community partner during these unprecedented times."
"The Town of Oxford is excited to work with FEMA and our EMA partners to provide assistance to help support the mobile COVID-19 clinic at the Oxford Casino," said Adam Garland, Oxford Town Manager. "Public health and safety is a top priority here in Oxford, especially during this pandemic. This mobile COVID-19 clinic represents a great collaboration between Federal, State, County and Local governments which allows for much greater public access to COVID-19 vaccines."
The MVU will be run by staff provided by FEMA, the U.S. Department of Agriculture, the U.S. Public Health Service, and others, with support from State and local Emergency Medical Services, local health care providers and volunteers.
"Through the remarkable efforts made by health care professionals, volunteers, the Maine CDC and National Guard, and local business leaders, Maine has one of the highest vaccination rates in the country. Maine is once again leading the way by becoming one of the first states to pioneer a mobile clinic to expand vaccine access," said Senators Collins and King and Representatives Pingree and Golden. "This new initiative will bring these life-saving shots directly to rural and underserved communities, making it more convenient for Mainers to access the vaccine. With each vaccination, we come closer to ending this terrible pandemic."
"In a rural state like Maine, the Federally run mobile unit is a much-needed solution to delivering vaccinations to people in harder to reach communities," said Jeanne Lambrew, Commissioner of the Maine Department of Health and Human Services. "This is a welcome step forward in our ongoing efforts to address health disparities that pre-dated the pandemic in rural and parts of urban Maine."
"The mobile clinic adds another important option in our efforts to vaccinate Maine people quickly and equitably," said Dr. Nirav D. Shah, Director of the Maine Center for Disease Control and Prevention. "This partnership allows us to shorten the distance between Maine people and shots that can save their lives."
"Maine Emergency Management Agency continues its partnerships at the state, county, local and federal levels," said Peter Rogers, Director of the Maine Emergency Management Agency (MEMA). "The MEMA team has been working with our colleagues at FEMA since the beginning to bring the Mobile Vaccination Unit to Maine. Having this MVU asset will be a force multiplier in the fight against COVID-19."
The Federal-State partnership, which comes one day before Maine expands vaccine eligibility to all residents age 16 and older, builds on the Mills Administration's ongoing work to expand access to the COVID-19 vaccine. These efforts include, but are not limited to: standing up large-scale vaccination sites, providing vaccine to independent health care providers and Federally Qualified Health Centers (FQHCs) in under-served areas, dispatching public health nurses to clinics throughout the state to meet the needs of at-risk Maine people who cannot easily travel to large-scale community vaccination clinics, and providing in-home vaccination to homebound Maine people.
To date, 463,662 Maine people have received their first dose of the vaccine - more than 41 percent of Maine people age 16 and older, with more than 28 percent being fully vaccinated. Maine is currently 4th best nationwide for the percentage of its population with at least one dose of vaccine and currently ranks 5th best nationwide for the percentage of its population fully vaccinated.
A list of the MVU's scheduled stops, which are subject to change, are as follows.
| Date | Municipality | Location | Address |
| --- | --- | --- | --- |
| April 12 - April 16 | Oxford | Oxford Casino | 777 Casino Way, Oxford |
| April 18 - April 22 | Windham | Windham Mall | 795 Roosevelt Trail, Windham |
| April 24 - April 28 | Biddeford | Biddeford High School | 10-20 Maplewood Avenue, Biddeford |
| April 30 - May 3 | Fryeburg | Fryeburg Fairgrounds | 1154 Main Street, Fryeburg |
| May 5 - May 7 | Turner | Boofy Quimby Memorial Center | 96 Howes Corner Road, Turner |
| May 9 - May 12 | Waterville | Marden's Surplus and Salvage | 458 Memorial Drive, Waterville |
| May 14 - May 17 | Old Town | Old Town Police & Fire Departments | 150 Brunswick Street, Old Town |
| May 19 - May 22 | Milbridge | Milbridge Marina | Bay View Road, Milbridge |
| May 24 - May 27 | Calais | Thomas Dicenzo Athletic Complex | Calais Avenue, Calais |
| May 29 - June 2 | Madawaska | Madawaska Multi Purpose Center | 160 7th Avenue, Madawaska |
| June 9 - June 12 | Auburn | Downtown Auburn Transportation Center | Great Falls Plaza, Auburn |
More information on vaccination for people in Maine is available at Maine's COVID-19 vaccine website.