May 12, 2023
Governor Janet Mills announced today she has sworn in Carolyn "Carrie" Gilbert of Cape Elizabeth to serve a six-year term on the Maine Public Utilities Commission (PUC). Governor Mills' nomination of Gilbert, an expert on energy policy and economics, received unanimous support from the Maine State Senate.
"Carrie brings a wealth of experience in energy policy and economics to the Maine Public Utilities Commission," said Governor Janet Mills. "I thank Carrie for her willingness to serve and the Senate for unanimously supporting her nomination."

"I look forward to putting my experience to work to ensure Maine consumers have access to safe and reliable utilities at just and reasonable rates," said Carrie Gilbert. "I am honored by the trust that Governor Mills and the Legislature have placed in me."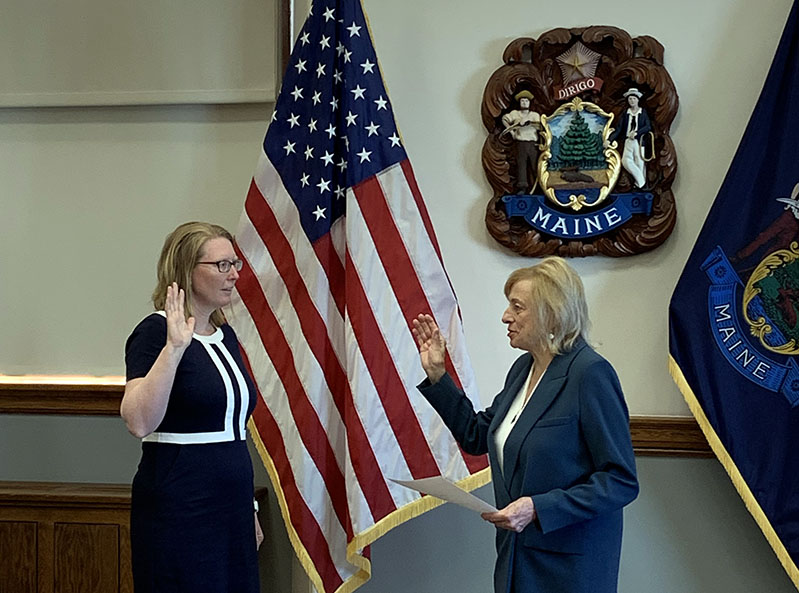 For the past 16 years, Gilbert has worked at Daymark Energy Advisors, a leading national energy consulting firm. In her position as Managing Consultant, provides expert advice to policymakers, regulators, developers, and commercial and industry energy users on renewable project development and economics, policy design, and competitive energy procurement models. She earned degrees in earth science and engineering from Dartmouth College, and a Master's in Business Administration from the Ross School of Business at the University of Michigan.
The Maine Public Utilities Commission regulates electric, natural gas, water, and telecommunications utilities to ensure Maine consumers have safe, adequate, and reliable services and rates that are just and reasonable for consumers and utilities.
The Commission oversees emerging competitive markets for some of these services. The PUC's three full-time Commissioners serve staggered terms of six years and make all final Commission decisions by public vote or action of the majority.
Gilbert is Governor Mills' third appointment to the PUC. In May 2019, Governor Mills nominated Phil Bartlett, former Chair of the Legislature's Energy, Utilities and Technology Committee, to serve as Chair of the PUC. In May 2021, she nominated attorney Patrick Scully as Commissioner.