Northeast Ocean Data Portal
Free, user-friendly access to expert-reviewed interactive maps and data on the ocean ecosystem, economy, and culture of the northeastern United States. Includes locations and status of current offshore wind projects on the US east coast (see Current Issues).
https://www.northeastoceandata.org
American Floating Offshore Wind Technical Summit (AFloat) 2020 
Presentations from an all-day summit on floating offshore wind technology hosted by the University of Maine. Nearly 600 registrants from around the world participated in sessions with leaders from technical, regulatory, permitting, environment, and development to prepare the U.S. for floating offshore wind. (Register on the website for free access to 8 hours of presentations.)
Maine Fishermen's Forum – March 5, 2019 Offshore Wind Seminar
Presentations from all-day seminar on offshore wind, including Bureau of Ocean Energy Management (BOEM), Maine Aqua Ventus, New England Fisheries Management Council, Northeast Fisheries Science Center and Offshore Wind Technology 101.
https://mainefishermensforum.org/wind-seminar-informational-links/
Tethys – Environmental Impacts of Wind and Marine Renewable Energy
Searchable database of research and other content to facilitate the exchange of information and data on the environmental effects of wind and marine renewable energy technologies and serve as a commons for wind and marine renewable energy practitioners.
https://tethys.pnnl.gov/wind-energy
Ocean Energy Systems - 2020 State of the Science Report: Environmental Effects of Marine Renewable Energy Development Around the World

Summary of science on environmental effects of marine renewable energy development from around the world.

https://tethys.pnnl.gov/publications/state-of-the-science-2020 
National Renewable Energy Laboratory
Renewable energy and energy efficiency research U.S. Department of Energy's Office of Energy Efficiency and Renewable Energy. NREL conducts fundamental wind energy science research, development, and validation activities.
Offshore Wind Power Initiatives in Other States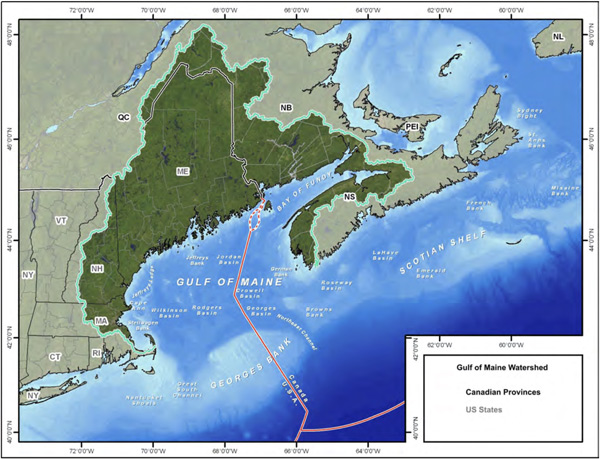 Figure from Gulf of Maine Council on Marine Environment report.