WIC and Retail Grocery Stores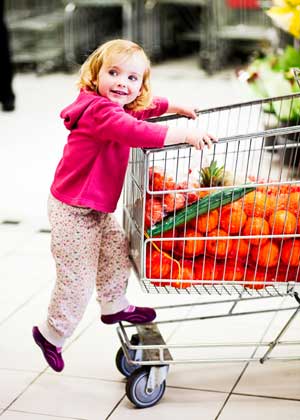 Maine WIC authorizes hundreds of stores around the state to accept WIC benefits for specified food items. Not every store qualifies to sell WIC products, but most grocery stores and many independent stores are authorized.
Find WIC Stores Find a Farm Stand or Farmers Market
Changes to WIC
Approved Food List
Food Item Waivers
Food Waivers extend until 30 days after the end of the nationally-declared public health emergency. WIC customers will be able to temporarily substitute eligible product. WIC customers can choose:
Cheese - one 12 ounce package
Eggs - two 6-count or one 18-count egg carton
Whole Wheat/Whole Grain Bread - an authorized whole grain in package sizes up to 24 ounces:

Arnold Small Slices 100% Whole Wheat Bread 18 oz
Great Value Whole Wheat Bread 20 Oz
Nature's Own 100% Whole Grain Bread 20 Oz
Nature's Own 100% Whole Wheat Bread 20 Oz
Pepperidge Farm whole Grain Soft Sprouted Bread 22 Oz
Sara Lee 100% Whole Wheat Bread 20 Oz
Signature Select 100% Whole Wheat Bread 22 Oz
Wonder 100% Whole Wheat Bread 20 Oz
If you have other food products that would fit this criteria let us know SubmitUPCWIC@maine.gov.
eWIC News
Help Make Our Program Better
WIC vendors play an important role assisting clients to obtain appropriate WIC foods. We value your input and suggestions. Contact Us.
Questions? Want to sign up? Contact your local WIC clinic.
York County Community Action Corp – York County
Sanford: 207-459-2942
Biddeford: 207-283-2402
The Opportunity Alliance – Cumberland County
Western Maine Community Action – Androscoggin, Franklin, and Oxford Counties
Auburn: 207-765-4016
Wilton: 207-645-3764
Midcoast Maine Community Action – Lincoln, Knox, Waldo, and Sagadahoc Counties
Bath: 207-442-7963
Rockland: 207-594-4329
Maine General – Kennebec and Somerset Counties
Augusta: 207-626-6350
Waterville: 207-861-3580
Skowhegan: 207-861-3593
Bangor Public Health & Community Services – Penobscot and Piscataquis Counties
Maine Family Planning – Washington and Hancock Counties
Ellsworth: 207-667-5304
Machias: 207-255-8280
Calais: 207-454-3634
Aroostook County Action Program – Aroostook County
Presque Isle: 207-768-3026
State Contacts for VOC Requests
State Agency Contact Information
Monday - Friday 8am-5pm
Phone: (207) 287-3991
In-state Toll Free:
1-800-437-9300
TTY: Maine relay 711

Email:
Main: WIC.Maine@maine.gov
Vendor: WICVendor@maine.gov
Mailing address:
11 State House Station
Augusta, ME 04333
What's New