WIC and Retail Grocery Stores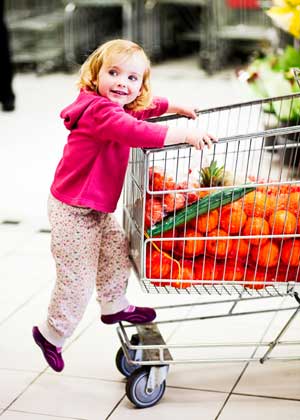 Maine WIC authorizes hundreds of stores around the state to accept WIC benefits for specified food items. Not every store qualifies to sell WIC products, but most grocery stores and many independent stores are authorized.
Find WIC Stores Find a Farm Stand or Farmers Market
Maine eWIC is here!
What is eWIC?
A card with a magnetic strip that contains WIC food benefits for a WIC household to purchase WIC-approved food at authorized WIC retailers.
The benefits of eWIC are invaluable to the Maine WIC Program. Vendors will enjoy advantages that include, but are not limited ot the following:
eWIC allows for faster purchasing at the register and improved customer service.
Vendors experience labor savings because transactions require customers to swipe a card, and no longer require the counting and processing of food instruments (Fls) and cash value vouchers (CVVs).
Checkout process is more efficient because completion of Fls/CVVs is not required.
Vendors are paid faster as payments are directly deposited into their bank account through an automated clearing house (ACH).
Less error prone, because approved foods, effective dates and benefit amounts are validated by the system, and not cashiers, at the time of the transaction.
Many issues related to printed Fls and CVVs are eliminated.
An easier, quicker and more secure checkout.
Reduced vendor staff training.
Signature verification is no longer required.
Changes to WIC

New Approved Food List
• Effective April 13,2020, New Approved Food List (PDF)
• Summary of changes to 2020 WIC Approved Food List (PDF)

Food Item Waivers
Starting Friday March 27, 2020 until September 30, 2020 participants will be able to temporarily substitute eligible product. WIC customers can choose:
• Cheese - one 12 ounce package
• Whole Wheat/Whole Grain Bread- an authorized whole grains in package sizes up to 24 ounces
• Eggs - two 6- count or one 18-count egg carton

Infant Checks
Starting Monday March 16, 2020 WIC Infant WIC checks (cereal, fruits & vegetables, and Meats) will no longer state Beech Nut.
• Letter sent to Vendors (PDF)

Maine eWIC Vendor Call Minutes
2020
eWIC News
eWIC Milestone (PDF)
List of Point Of SaleProviders/Value Added Resellers (PDF)
Help Make Our Program Better
WIC vendors play an important role assisting clients to obtain appropriate WIC foods. We value your input and suggestions. Contact Us.
Contact Info
Monday - Friday 8am-5pm
Phone: (207) 287-3991
In-state Toll Free:
1-800-437-9300
TTY: Maine relay 711

Email:
Main: WIC.Maine@maine.gov
Vendor: WICVendor@maine.gov
Mailing address:
11 State House Station
Augusta, ME 04333
Phone Numbers for
your local WIC clinic
Auburn: 207-795-4016
Augusta: 207-626-6350
Bangor: 207-992-4570
Bath: 207-442-7963
Belfast: 207-338-1267
Biddeford: 207-283-2402
Calais: 207-454-3634
East Wilton: 207-645-3764
Ellsworth: 207-667-5304
Machias: 207-255-8280
Portland: 207-553-5800
Presque Isle: 207-768-3026
Rockland: 207-594-4329
Sanford: 207-459-2942
Skowhegan: 207-861-3593
Waterville: 207-861-3580
State Contacts for VOC Requests
What's New