Maine Newborn Hearing Program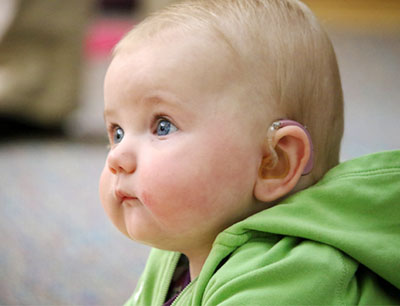 In Maine, all hospitals with birth facilities offer newborn hearing screening before babies go home. A hearing screening is a test to tell if an infant might have a hearing loss. Hearing loss can affect a child's ability to develop communication, language and learning. Testing is the only way to know if a baby has hearing loss.
Hearing screening is quick, easy, and does not hurt. In Maine the screening method used at birth facilities is Automated Auditory Brainstem Response or AABR. Small sensors are placed on the baby's head and earphones are also used. Soft sounds are presented while your baby sleeps naturally.
Hearing loss is the most commonly occurring disorder in infants in the US and affects as many as 1 to 3 out of 1,000 babies born each year. Genetic factors are the cause of hearing loss in some babies, particularly those with a family history of hearing loss. Delayed detection of hearing loss can lead to communication, social, psychological, behavioral and educational challenges. The American Academy of Pediatrics recommends that all infants be screened by 1 month of age, diagnosed by 3 months of age, and receive early intervention services no later than 6 months of age.
For information please contact Anne Banger, Newborn Hearing Coordinator
Tel: (207) 287-8427
TTY: Maine relay 711
Fax: (207) 287-4743
Email: anne.banger@maine.gov
Maine Newborn Hearing Screening Annual Data Briefs
---
Maine State Law & Rules Relating to Newborn Hearing Program
Title 22: Health and Welfare, Chapter 1686, Newborn Hearing Program (PDF)

Rules and Regulations - Chapter 279 (PDF)
Video courtesy of Hands and Voices