Home → Emergency Preparedness
Emergency Preparedness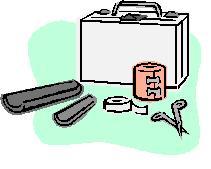 Preparing for disaster for Children with Disabilities and other Special Needs
Planning in advance is very important and is critical if you have a child with special health needs.
Questions to consider:
Do you have a current care plan and list of medications from your child's doctor?
Do you have an emergency information form filled out for your child?
Do you have at least a two-week supply of medications and supplies for your child?
Do you have a back-up or plan for equipment that needs electricity?
Have you talked with your child's doctor about the best places to go during a disaster?
Do the emergency workers in your area and your neighbors know that you have a child with special needs? Do they know what those needs are?
Do you have a disaster plan for your child while he or she is away from home? Be sure to have a plan for school, day care, and place of worship.
Resource Links
The following Internet web sites are listed for your convenience. This is not all-inclusive, nor should it be considered an endorsement of the accuracy of, or support for, the information/views expressed in each site.
www.fema.gov
The Federal Emergency Management Agency website has information on current and past disasters and how to apply for help. It also has maps and information about planning for a disaster.
https://www.ready.gov/kids
Website just for kids.
www.redcross.org
Red Cross website has information about planning and responding to disasters. The site also has specific information for communities after a disaster strikes.
www.ready.gov
Online preparedness tools
https://www.maine.gov/mema/
The Maine Emergency Management Agency website has information regarding planning for a disaster including checklist for home, families and pets and livestock