About Maine CHNA
Who we are
The Maine Shared CHNA (MSCHNA) began as the OneMaine Health Collaborative in 2007 as a partnership between MaineGeneral Health (MGH), MaineHealth (MH), and Northern Light Health (NLH-then known as Eastern Maine Healthcare System, or EMHS). After conversations with the Statewide Coordinating Council for Public Health, the Maine Center for Disease Control and Prevention (Maine CDC) joined the collaborative in 2012. The effort was then named the Maine Shared Health Needs Assessment and Planning Process (SHNAPP). Central Maine Healthcare (CMHC) joined the group in 2013. In 2014, CMHC, Maine CDC, MGH, MH and NLH signed a formal Memorandum of Understanding and drafted the Maine Shared CHNA Charter (PDF) to guide the collaborative. In 2017, the name was changed to the Maine Shared Community Health Needs Assessment or Maine Shared CHNA. The Memorandum of Understanding was updated in 2019.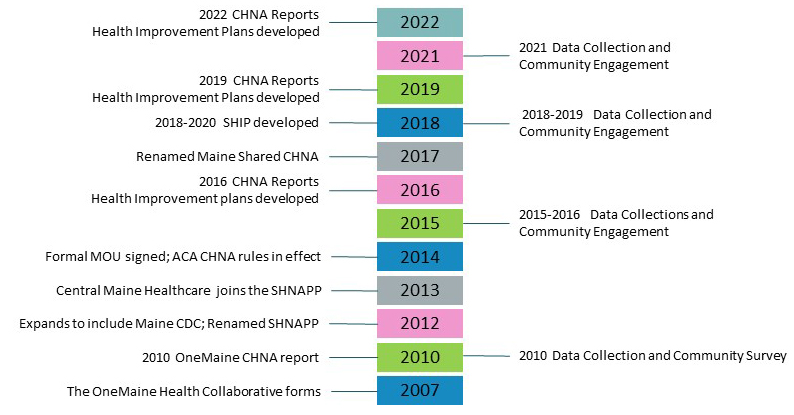 What we do
The MSCHNA coordinates a collaborative state wide health assessments. By doing this together, we avoid duplicating our efforts while fostering collaborative partnerships. The MSCHNA reports provide up-to-date health information at the state, county, urban, and sub-population levels. This effort satisfies the need for all tax-exempt hospitals to do periodic needs assessments in order to meet federal community benefit requirements; supports state and local public health department's national public health accreditation requirements; and provides valuable population health assessment data for a wide variety of organizations across Maine.
Funding for the Maine Shared CHNA is provided by the partnering healthcare systems with generous in-kind support from the Maine CDC. Governance is provided by the Steering Committee. Countless community partners and stakeholders provide additional support by participating in either the Metrics Committee, Community Engagement Committee, Local Planning Committees, or the Data Analysis Workgroup.
Central Maine Healthcare (CMHC)
Maine Center for Disease Control and Prevention (Maine CDC)
MaineGeneral Health (MGH)
MaineHealth (MH)
Northern Light Health (NLH)
---
Committee Structure
Steering Committee
Metrics Committee
Health Equity/Community Engagement Committee
Local Planning Committees
Data Analysis Workgroup
For more information, contact:
Jo Morrissey, Program Manager
Maine Shared CHNA
c/o MaineHealth
110 Free Street
Portland, ME 04101
207-661-3428
info@mainechna.org