Natural Landscapes of Maine:
A Guide to Natural Communities and Ecosystems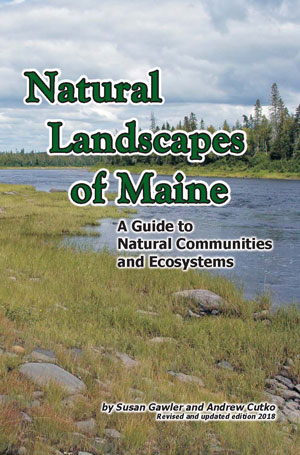 Books are priced at $18.95 plus 5.5% sales tax ($1.04) and shipping and handling ($3.71).
Total price is $23.70
Please use our order form, or send a check or money order payable to Treasurer, State of Maine, along with your name and mailing address to:
Maine Natural Areas Program, 177 State House Station, Augusta, ME 04333-0177
For credit card orders (Master Card or Visa), please visit our webshop.
For wholesale pricing or other questions: 207-287-8044 or email maine.nap@maine.gov
About Natural Landscapes of Maine
Teachers, foresters, land trusts, students, ecologists, consultants, conservationists, and others who enjoy the natural landscape around them have long and eagerly awaited the publication of Natural Landscapes of Maine (348 pp., $18.95).
Maine is a special place. Those who have walked its woods, paddled its waters, or hiked its mountains know there are few places on earth with such vast forests, pristine wetlands, rugged mountains, and majestic coastal headlands all within a day's drive.
This book divides Maine's landscape into smaller pieces - 'natural communities' and 'ecosystems' - and assigns names to those pieces based on where they fit in the landscape and on their attendant trees, shrubs, wildflowers, and wildlife species. Each of Maine's 104 natural communities has a two page description with color photographs and distribution maps. Introductory material includes a diagnostic key and how this classification fits into a bigger picture for conservation, and appendices include a cross-reference to other classification types and a glossary.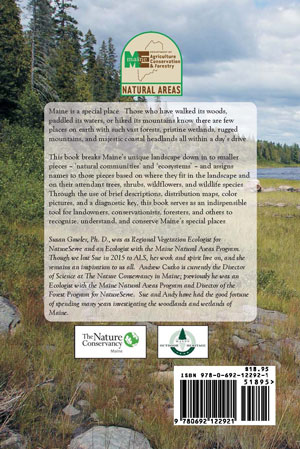 Authors Susan Gawler and Andrew Cutko have had the good fortune of spending many years investigating the woodlands and wetlands of Maine as ecologists for NatureServe and the Maine Natural Areas Program, and for their own pleasure.
Natural Landscapes of Maine serves as an indispensable tool to recognize, understand, and conserve Maine's special places.
Title: Natural Landscapes of Maine: A Guide to Natural Communities and Ecosystems
2018 Revised and Updated Edition available!
Publisher: Maine Natural Areas Program
ISBN: 978-0-692-12292-1