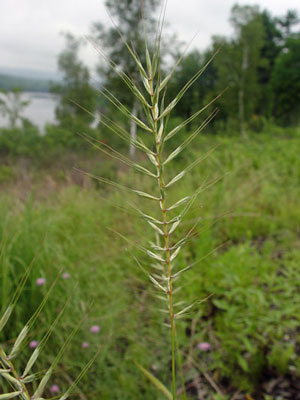 Elymus hystrix L.
Bottlebrush Grass
Habitat: Rich, rocky, or alluvial deciduous forests. [Hardwood to mixed forest (forest, upland)]
Range: New Brunswick to Ontario, south to Georgia, Illinois, and Nebraska .
Aids to Identification: Like other members of the genus Elymus, E. hystrix is a tall grass with flat leaf-blades and bristly terminal spikes. It is distinguished by its widely spreading spikelets, 2 spikelets borne at each node, and its long awns.
Ecological characteristics: In Maine this grass is known to occur on rich wooded slopes and alluvial floodplains with a variety of deciduous trees in the canopy.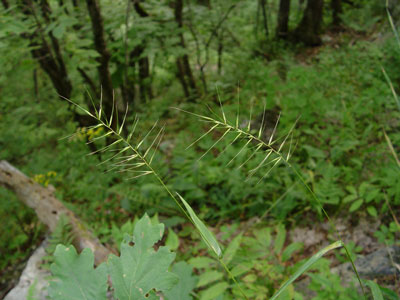 Phenology: Fruits June - July.
Family: Poaceae
Synonyms: Maine tracks this at the species level. There are two varieties in New England, both are known from Maine.
Elymus hystrix L. var. bigeloviana (Fern.) Bowden, with synonym Hystrix patula Moench var. bigeloviana (Fern.) Deam.
Elymus hystrix L. var. hystrix with synonyms Hystrix hystrix (L.) Millsp. and Hystrix patula Moench.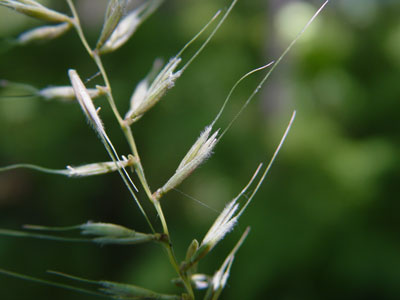 Known Distribution in Maine: This rare plant has been documented from a total of 18 town(s) in the following county(ies): Cumberland, Franklin, Kennebec, Knox, Oxford, Somerset, Waldo, York.
Reason(s) for rarity: Scarcity of suitable habitat.
Conservation considerations: This plant is restricted statewide to southern Maine, and most known populations are vulnerable to conversion of their habitat to residential or commercial use.