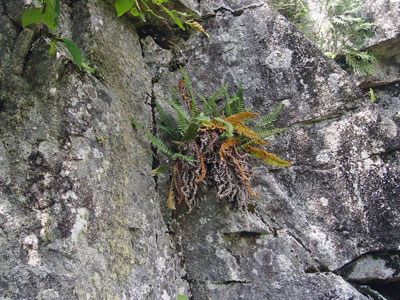 Dryopteris fragrans (L.) Schott
Fragrant Wood Fern
Habitat: Dry cliffs and rocky banks (often calcareous). [Rocky summits and outcrops (non-forested, upland); Alpine or subalpine (non-forested, upland)]
Range: Circumboreal, south to northern New England and west to Minnesota.
Aids to Identification: A small, aromatic, evergreen fern usually surrounded by dead fronds at its base. The fronds are 6-25 cm long and 4-5 cm across; the sori on the undersides of the pinnae are brown. The separation between the leaflets on the leaves gives the plant a delicate appearance.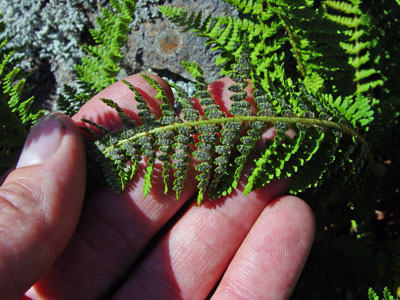 Ecological characteristics: This fern is limited to cool, dry, sometimes shaded cliffs or banks, the rocks sometimes are calcareous or basic, but other times acidic.
Phenology: Perennial, semi-evergreen; the old fronds remaining attached to the plant long after they are withered and brown.
Family: Polypodiaceae
Synonyms: Polypodium fragrans L.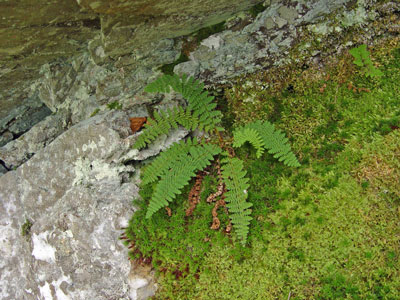 Known Distribution in Maine: This rare plant has been documented from a total of 40 town(s) in the following county(ies): Aroostook, Cumberland, Franklin, Hancock, Kennebec, Oxford, Penobscot, Piscataquis, Somerset, Washington.
Reason(s) for rarity: At southern limit of range, habitat naturally scarce.
Conservation considerations: Known populations are in remote locations, not particularly vulnerable to human activities.