Printer Friendly Fact Sheet - 920 KB pdf (Get a free copy of Adobe Acrobat Reader)
Pitch Pine Woodland
Scientific Name: Pitch Pine Woodland; State Rank: S3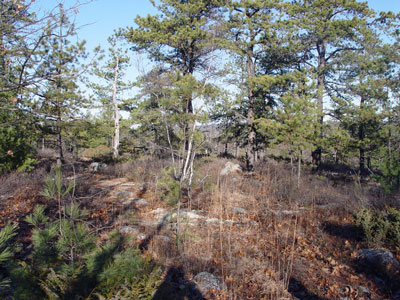 Community Description: These very open to semi open woodlands (25-65% canopy, occasionally to 75%) are dominated by pitch pine, often with a much smaller component of red oak, red or white pine, or black or red spruce. The well spaced pines allow a substantial amount of light to reach the understory. The sapling/shrub layer is usually <40% cover, with smaller pitch pines, mountain holly, or black huckleberry. The herb layer is well developed (>30% cover) and strongly dominated by dwarf, mostly heath, shrubs. At some sites, broom-crowberry is a prominent species. Herbs contribute <10% cover, and the composition varies. The bryoid layer may be 0-50% cover (rarely more) and is typically dominated by reindeer lichens. Back to top.
Soil and Site Characteristics: Typical sites are ledges or rock outcrops in coastal areas. They may be flat to gently sloping, at elevations up to 1500'. Soils are usually very thin, consisting of a coarse mineral fraction or a layer of poorly decomposed duff over bedrock, with pH 4.6-5.4. Many sites have evidence of past fire. Back to top.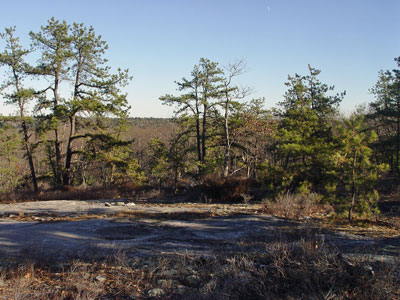 Diagnostics: These pitch pine dominated woodlands (25-65% canopy cover) grow on bedrock with very little soil. Back to top.
Similar Types: Pitch Pine - Scrub Oak Barrens, Pitch Pine - Heath Barrens, and Pitch Pine Dune Woodlands differ in that they develop on sandy outwash or dunes, rather than on thin soil over bedrock. Pitch Pine Bogs are wetlands, with wetland plants, including peat mosses. Back to top.
Conservation, Wildlife and Management Considerations: This community appears to be relatively stable in Maine, with little habitat conversion. Fire has apparently played a role in maintaining this woodland type by preventing the invasion of fire sensitive hardwood trees and shrubs. The suppression of fire may result in the conversion of these woodlands to a different type. Many sites receive recreational use. In a few locations use is heavy enough to have degraded the community, but most foot traffic recreational use is compatible. Communications towers could impact some sites on mid-elevation summits.
Birds such as the pine warbler and prairie warbler may prefer this open habitat. This community type may include rare moths that utilize pitch pines as a larval host plant such as the oblique zale, southern pine sphinx, and pine-devil moth, a historical species for Maine. Back to top.
Distribution: >Coastal Maine, east to Mount Desert Island; extending southward along the Atlantic coastal plain and Appalachian foothills. Landscape Pattern: Small Patch; size range variable from a few acres to nearly 100 acres. Back to top.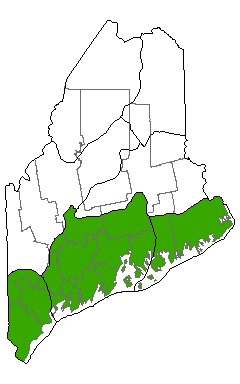 Characteristic Plants: These plants are frequently found in this community type. Those with an asterisk are often diagnostic of this community.
Canopy

Red spruce
Pitch pine*
Red oak*
Red pine*
White pine*

Sapling/shrub

Black huckleberry*
Gray birch*
Mountain holly*
Pitch pine*
Red spruce

Dwarf Shrub

Black huckleberry*
Broom-crowberry*
Lowbush blueberry*
Rhodora*
Sheep laurel*

Herb
Bryoid
Pine-devil moth
Southern pine sphinx
Examples on Conservation Lands You Can Visit
| Example | County |
| --- | --- |
| Bald Head Preserve | Sagadahoc Co. |
| Champlain Mountain, Acadia National Park | Hancock Co. |
| Dorr Mountain, Acadia National Park | Hancock Co. |
| Reid State Park | Sagadahoc Co. |