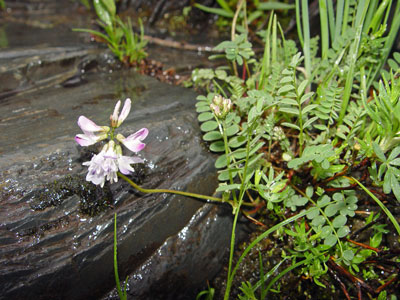 Astragalus alpinus L. var brunetianus Fern.
Alpine Milk-vetch
Habitat: Calcareous ledges and gravels. [Non-tidal rivershore (non-forested, seasonally wet)]
Range: Restigouche River (Quebec and New Brunswick), St. John and Aroostook Rivers (Maine), Connecticut River (New Hampshire and Vermont). Typical variety occurs in arctic regions, south to Newfoundland.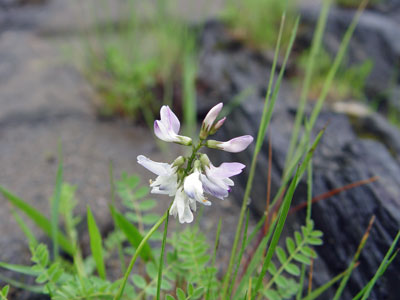 Aids to Identification: Alpine milk-vetch is a loose, straggling plant restricted (in Maine) to a few river-shore areas. The compound leaves are composed of 5-11 pairs of oblong leaflets. The purplish-white, pea-like flowers are borne in a dense, short raceme (cluster). The legumes, or pods, are slender, curved and gradually tapering, and hairy. The stems are creeping, branching and may form mats up to a meter across. The falcate legume with a deep groove separates Astragalus alpinus from the other Astragalus species that occurred historically in Maine.
Ecological characteristics: This plant is both naturally restricted in its range and at its southern limit in Maine. At its known locations in Maine (along the St. John & Aroostook Rivers), it grows on gravelly banks or beaches where it is frequently subjected to ice-scouring and/or high water. Associates include other subarctic species here at their southern limit, such as Hedysarum alpinum var. americanum, Tanacetum bipinnatum ssp. huronense, and Primula mistassinica.
Phenology: In Maine, begins flowering in early June, continuing through July. Legumes mature late July through the fall.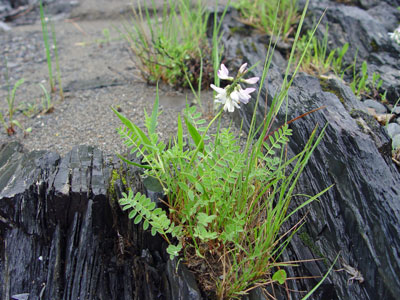 Family: Fabaceae
Synonyms: Astragalus alpinus L. var labradoricus (DC.) Fern.
Known Distribution in Maine: This rare plant has been documented from a total of 15 town(s) in the following county(ies): Aroostook.
Reason(s) for rarity: Naturally restricted range, at southern limit of range, habitat declining.
Conservation considerations: Maintain hydrologic integrity of its rivershore habitat, including natural disturbance by water and ice. Populations could be harmed if all-terrain vehicle use of its habitat increases.