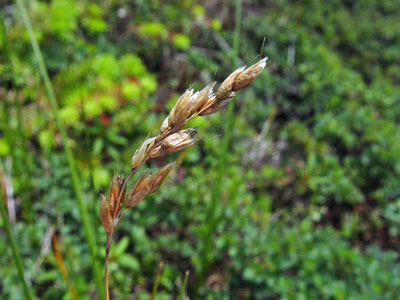 Anthoxanthum monticola (Bigelow) Y. Schouten & Veldkamp.
Alpine Sweet Grass
Habitat: On siliceous rock and dry peat and on mountains [Alpine or subalpine (non-forested, upland)].
Range: Circumboreal, south to alpine areas of New England and New York.
Aids to Identification: Members of the grass family can be difficult to identify without careful examination of microscopic features and knowledge of general groups of species. The grasses of this genus are perennial with fragrant, flat leaf blades and terminal flowering clusters. This species has smooth stems growing in tufts, 20-50 cm high. It has large (6-8 mm long), golden brown spikelets with conspicuous awns (slender bristles) that protrude from the flowers. The spikelets are aggregated into a compact inflorescence 3-5 cm long.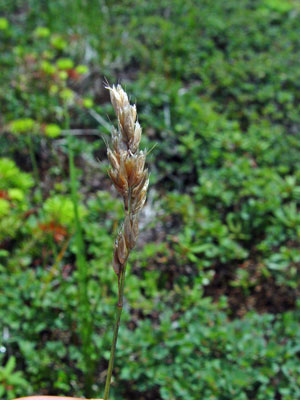 Ecological characteristics: This grass has been found in a variety of alpine habitats in Maine, from dry summits to high elevation mossy ravines.
Phenology: Fruits July - August.
Family: Poaceae
Synonyms: Populations in Maine and New England represented by ssp. monticola. Synonyms include Hierochloe alpina (Sw. ex Willd.) Roemer & J.A. Schultes; Hierochloe alpina (Sw. ex Willd.) Roemer & J.A. Schultes ssp. orthantha (Sørenson) G. Weim.; Hierochloe monticola (Bigel.) A. & D. Löve; Hierochloe orthantha Sørenson.
Known Distribution in Maine: This rare plant has been documented from a total of 6 town(s) in the following county(ies): Franklin, Oxford, Piscataquis, Somerset.
Reason(s) for rarity: At southern limit of range.
Conservation considerations: Populations could be threatened by heavy recreational (hiking) use.