Coastal Resiliency
"Coastal resilience means building the ability of a community to "bounce back" after hazardous events such as hurricanes, coastal storms, flooding, -rather than simply reacting to impacts." -National Ocean Service, NOAA
Maine's saltmarshes are an important transitional habitat between the ocean and the land. They provide vital habitat for a variety of animals and plants, support recreational opportunities, and perform many valuable functions including mitigating storm surge and filtering pollutants.
This page provides a roadmap to currently available data related to tidal marshes, tidal marsh migration, and undeveloped blocks under various sea level rise scenarios. The table below provides details on the different tidal marsh migration data sets that are avalable through this site. Click on a link to go to that page to view the map or download the data set.
| | | |
| --- | --- | --- |
| Data Set | Data Description | Primary Data Use |
| Current Tidal Marshes | Currently existing tidal marshes in Maine | This data layer is shown on the Potential Marsh Migration and Coastal Undeveloped Blocks maps, but is available for download through this link only. |
| Sea Level Rise/Storm Surge | Inland extent of several scenarios (1, 2, 3.3, and 6 foot) sea level rise simulations; includes developed and undeveloped areas | To view the inland extent of several sea level rise scenarios. This "bathtub" model can help inform storm surge and sea level rise vulnerability assessments. |
| Potential Tidal Marsh Migration | Future marsh migration within tidal estuaries on undeveloped lands under 1, 2, 3.3, and 6 foot sea level rise simulations | To view the inland extent of several sea level rise scenarios only on undeveloped land within tidal estuaries, i.e., locations along the coast where potential remains for marsh migration on to currently undeveloped land. These data are intended to help inform conservation or land management planning to support future tidal marsh migration on multiple scales. |
| Coastal Undeveloped Blocks After 1 Meter Sea Level Rise | Undeveloped areas of the Maine coast within 300 m of highest annual tide in a 1 m (3.3 feet) sea level rise simulation | To view areas along the coast that have the potential to support future tidal marsh under a 1 meter sea level rise scenario and have intact, undeveloped buffers that enhance or protect habitat quality and tidal marsh function (e.g. water quality, fisheries, wildlife habitat). Useful for conservation or restoration planning on multiple scales. |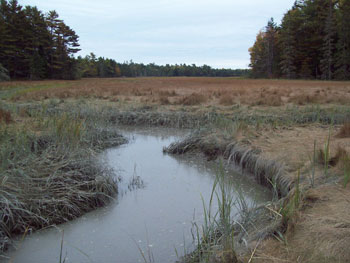 Maine's saltmarshes are amongst the most productive ecosystem on earth (in terms of biomass production). Their numerous functions and values include:
habitat for birds, finfish, shellfish, crustaceans, mussels, and insects, including commercially valuable or rare, threatened, or endangered species
erosion control and mitigation against waves, storm events, and sea level rise
mosquito control (healthy marshes provide habitat for fish that eat mosquitoes)
water quality maintenance (saltmarshes filter pollutants)
Maine's coastal wetlands are used by 2/3 of our commercially valuable fish, shellfish, baitworms, and other organisms at some point in their life cycle
tidal saltmarshes act as Carbon sinks and help regulate the release of carbon into the atmosphere; Maine's salt marshes store approximately 73,000 tons of CO2 each year
saltmarshes provide an open, greenspace that can increase property values in neighboring communities and enrich our visual landscape
saltmarshes provide exceptional recreational opportunities for hunting, fishing, boating, and bird-watching
This work was supported by funding from the Maine Outdoor Heritage Fund and the U.S. Environmental Protection Agency.