Energy Efficiency and Renewable Energy Financial Resources for Farms
Energy needs can be a major expense to a farm's bottom line. Eliminating or upgrading inefficient equipment and investing in renewable energy resources can cut costs and help farms be more profitable. This webpage shares technical and financial resources and highlights energy efficiency and renewable energy opportunities that may help keep farms productive, reduce costs, and lessen environmental impacts.
On this page:
---
News
USDA Rural Energy for America Program (REAP)
Database of State Incentives for Renewables & Efficiency
Find policies and incentives by entering your zip code at the Database of State Incentives for Renewables & Efficiency.
Efficiency Maine
The Efficiency Maine Trust provides programs to improve the efficiency of energy use and reduce greenhouse gases in Maine. Relevant programs are highlighted below.
Agricultural Resource Development Division Loan Programs
Examples of Energy Efficient Systems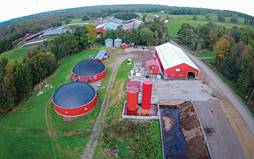 Photo courtesy or Agri-Cycle Energy
Distributed Energy System: Anaerobic Digester, Exeter Agri-Energy, Exeter, Maine.
Bio-methane, or biogas, is produced when organic matter decomposes and is interchangeable with natural gas. When microorganisms digest organic matter, biogas is released and can be captured in an anaerobic environment. Exeter Agri-Energy sources 25,000 gallons of external food waste and 30,000 gallons of cow manure and bedding from Stonyvale Farm daily to power three 1-megawatt cogeneration units that create electricity for the farm, with any excess power being sold to the grid. This process also creates a solid byproduct that can be used for animal bedding or compost material. It also creates a liquid byproduct that can be used as a natural fertilizer.
Thermal Project: Evacuated tube solar hot water collector system at NEWAIM fiber mill in Waldoboro, Maine.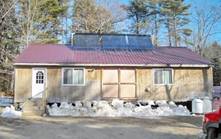 Photo courtesy of ReVision
Fiber processing at NEWAIM Fiber Mill requires 140° water. Previously, the mill's propane hot water heater required 4 gallons of propane to wash 10 pounds of fiber. By installing a solar hot water collector system, water can be preheated by the sun before entering a water heater. This can significantly reduce the amount of energy required to heat water. With their new system, propane is rarely used in the summer. In the winter, with air temperatures measured at 18°, water inside the system was measured above 140°. Installations may include flat plate collectors or an evacuated tube system. The advantage of evacuated tubes is their cylindrical shape. Sunlight must be perpendicular to the collectors to run efficiently. For flat plate collectors, sunlight must be overhead, whereas sunlight is perpendicular to cylindrical tubes at any angle, including low angles in the winter.
Renewable Energy System: Off-grid solar powered cheese-making facility and farm store, Balfour Farm, Pittsfield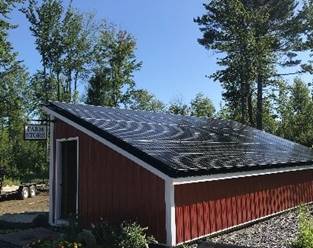 Photo courtesy of Balfour Farm
The Dairy Imporvement Fund loan program, in conjunction with an Androscoggin Valley Council of Governments grant and USDA REAP grant, supported this 9.7 kW solar array with battery storage for their off-grid milking and cheese-making operations and retail location. The farm's generator usage has reduced by about 85% and is now reserved for high-intensity use in the morning during milking time and back-up needs.