Division of Population Health
The Division of Population Health and its programs support a variety of functions to improve health and prevent or reduce the impact of diseases. Programs use an ecological approach that considers individuals within the social, organizational, and environmental contexts in which they live.


KeepMEWell is an online tool that can help you learn how to improve your health and stay well. It will give you a personal report that will help you take action and find local support.
Community Transformation Grant
A Maine CDC project, made possible with funding from the U.S. Centers for Disease Control and Prevention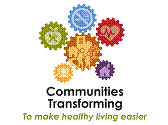 Division Goals:
Reduce the rates of preventable chronic diseases and diseases, and improve health outcomes for people living with chronic disease;
Improve health through health promotion, public health education, early detection, disease management, and implementation of public health policies;
Support data collection and analysis within the framework of public health surveillance in order to monitor disease rates and trends and evaluate programs;
Disseminate information about research-based best practices to ensure high quality programs and services;
Provide grants, contracts, training, and technical assistance to local agencies to achieve state and local public health goals;
Support primary and secondary dental disease prevention;
Improve the quality, effectiveness and efficiency of public health programs and services.
Population Health Program Areas:
Asthma
Comprehensive Cancer Control
Cardiovascular Health
Children with Special Needs (CSHN)
Diabetes Prevention and Control
Breast and Cervical Health
Cancer Registry
Maine Cardiovascular Health
Maine Injury Prevention Program (MIPP)
Maine Suicide Prevention
Oral Health
Partnership For A Tobacco-Free Maine
Physical Activity and Nutrition
Coordinated School Health
Healthy Maine Partnerships
Teen and Young Adult Health
Debra A. Wigand, Division Director

Division of Population Health
11 State House Station
286 Water Street
Augusta, ME 04333-0011
Division Contact: Sherri Meucci
(207)287-4064
sheri.a.meucci@maine.gov
TTY: Maine relay 711