» Mobile Maine.gov
Mobile Maine.gov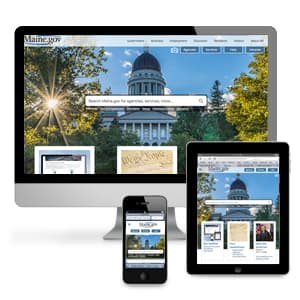 Maine.gov was designed with mobile at the forefront, to make your experience fast and easy on any device. Rather than a separate mobile version, we use responsive design to make sure Maine.gov automatically works at any screen size. We are also moving online services and state agency websites into a responsive, mobile-ready design.
Mobile Websites
Mobile Online Services
Get things done wherever you are! These services are designed to work on your desktop, laptop, tablet, or smartphone. More are coming all the time.
Absentee Ballot Request
Request an absentee ballot for the upcoming election.
Alcohol Seller and Server Training and Certification
Comprehensive online training course for servers and sellers of alcoholic beverages.
MyMaineConnection
Check eligibility or apply for state assistance.
Recreational Saltwater Fishing Registry
Register for saltwater fishing in Maine.
Regulatory Licensing and Permitting (Professional Licensing & Renewals)
( View professions + )

Accountants
Alcohol and Drug Counselors
Architects
Athletic Trainers
Auctioneers
Barbering and Cosmetology
Boiler Operators
Chiropractors
Complementary Health Care
Counseling Professionals
Dental Examiners
Dieticians
Electricians
Elevator/Tramway Operators
Foresters
Feneral Services
Geologists and Soil Scientists
Interpreters
Land Surveyors
Manufactured Housing
Massage Therapists
Medicine (Physicians and Physician Assistants)
Nurses
Nursing Home Administrators
Occupational Therapists
Pharmacists
Physical Therapists
Plumbers
Podiatrists
Psychologists
Radiologists
Real Estate Appraisers
Real Estate Professionals
Transient Sales
Respiratory Care
Social Workers
Speech, Audiology, and Hearing
Tanning Facilities
Veterinary Medicine
XRay Technicians

Rapid Renewal
Vehicle & Trailer Registration Renewal Service