December 10, 2020
Today Governor Janet Mills of Maine and the United Kingdom's Minister of State at the Department of Business, Energy and Industrial Strategy (BEIS), the RT Hon Kwasi Kwarteng MP, announced the signing a Memorandum of Understanding ("MoU") (PDF) to enhance cooperation between the State of Maine and the UK to pursue ambitious advancement in clean energy technologies and mutually achieve carbon neutrality by mid-century or sooner.
"The UK has led the way globally in using offshore wind to reduce emissions and we are pleased to be working with Governor Mills and her team to share our experience," said UK Energy Minister Kwasi Kwarteng. "This fantastic partnership with Maine will help both the United States and the UK take another step towards our critical climate change goals."
"The United Kingdom is showing how bold policy goals to create a vibrant, diversified clean energy industry can combat climate change and generate economic growth," said Governor Janet Mills. "With this MoU, Maine is continuing to lead in the development of clean energy. By working with our colleagues in the UK to develop these industries, Maine can achieve its energy goals, create jobs, and preserve and protect our state for future generations as we fight climate change."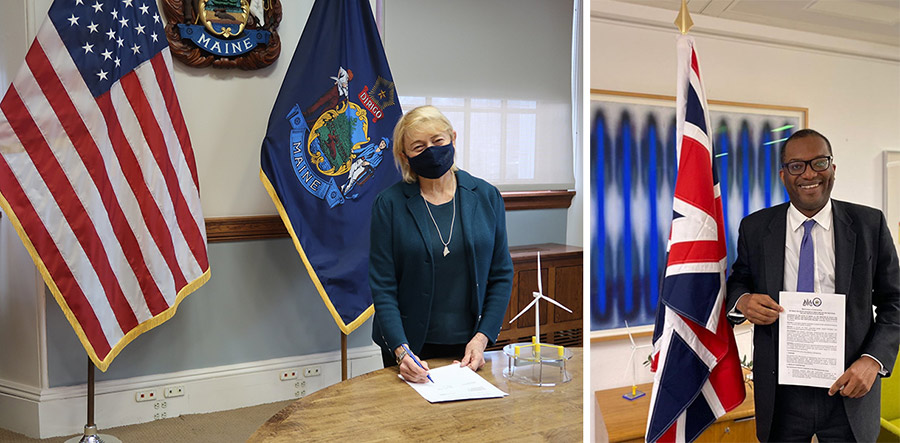 The MoU signed by Governor Mills and Minster Kwarteng will strengthen a bilateral partnership between Maine and the United Kingdom to promote and foster sustainable growth, support innovation, and strengthen the global response to climate change. 
As global leaders in low-carbon technologies, Maine and the UK are entering into this agreement to mutually benefit researchers and businesses, as a reflection of the growing need for international collaboration on climate and energy.  
Specifically, the MoU commits Maine and the UK to collaborate and share resources to reduce emissions from heating and transportation and advance innovative offshore wind and green hydrogen technology. Additionally, the MoU calls for cooperation on evaluating impacts of offshore wind on fisheries and the marine environment, workforce development, and port infrastructure.
The genesis for this agreement came in early 2020, following Governor Mills' visit to Scotland as part of a U.S. delegation of state and federal officials invited by the UK government to learn more about offshore wind energy.
"Formalizing this partnership allows Maine and the UK to coordinate on innovative technologies such as floating offshore wind and green hydrogen to foster innovation and advance economic growth," said Dan Burgess, Director of the Governor's Energy Office in in Maine. "With offshore wind investment expected to top $70 billion in the U.S. this decade, the relationship with the UK offers a tremendous scientific, technical and environmental expertise that will inform Maine's future in this growing field, and help it co-exist with our important marine industries, especially fishing."
"This partnership between the UK and Maine sets the stage for a deeper, more ambitious relationship with one of the US states doing exciting work in the field of offshore wind. Maine's ambitious climate action will resonate with many others and help lead broader reforms across New England and more widely, supporting jobs, encouraging investment and building a green, clean, resilient economy," said British Consulate-General to New England, Dr. Peter Abbott.
With some of the richest wind resources in the world in the Gulf of Maine, Governor Janet Mills has made developing offshore wind a leading part of her climate change and economic recovery policies. In November, she announced the state's intention to seek the first floating offshore wind research lease in the U.S, which would deploy up to a dozen floating wind turbines in the Gulf of Maine.
The MoU took effect on Wednesday, December 9, 2020, and will remain valid for a period of five years.
For more information on Maine's clean energy initiatives please visit: maine.gov/energy. Visit climatecouncil.maine.gov to read the state's new four-year plan for climate action.
Get more information on the UK's 10 Point Plan for a Green Industrial Revolution.