December 11, 2019
Searsmont, MAINE – Calling the growth of Maine's economy one of our state's highest priorities, Governor Janet Mills today unveiled the State's new 10-year strategic economic development plan. The non-partisan plan, which is the first of its kind in more than two decades, aims to foster collaboration among the public, private, non-profit, and education sectors to grow and diversify Maine's economy. It establishes three overarching goals, recommends seven core strategies, and then outlines numerous concrete actions to achieve that growth.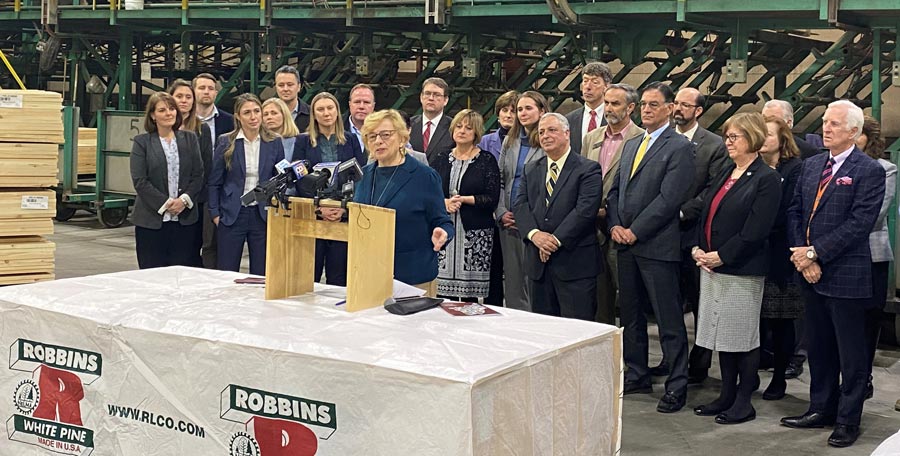 "Maine stands at an economic crossroads. Our traditional industries – farming, forestry and fishing – have laid a strong economic foundation for our state, and the time has come for us to build on that," said Governor Mills. "This strategic plan creates a roadmap to foster collaboration, drive innovation, jumpstart growth, and, ultimately, achieve a diverse, forward-looking economy that offers everyone an opportunity to succeed. Out of it, I hope that our state will become a hub of innovation and excellence – a place where people can establish roots and live happy and fulfilling lives, and where entrepreneurs can take risks, grow their businesses, and create jobs. Maine, like any state, has its challenges, but we also have great opportunities – and because of that, I have great hope for our future."
"Maine's economy has a place for everyone and we need everyone to participate in order to succeed," said Commissioner Heather Johnson. "While we face serious challenges, the possibilities for economic growth in Maine are limitless. Our assets – the wind, tides, sunlight and expertise to confront climate change; thriving tourism, hospitality, and outdoor recreation sectors; leading researchers driving innovation in biosciences and technologies; and adapting heritage industries already diversifying fishing and farming – include the unmatched character and resolve of Maine people. I look forward to working with Governor Mills, the Legislature, and the people of Maine to implement the recommendations of the strategic plan to grow our economy in the coming years."
The plan comes as the state's Gross Domestic Product (GDP) – a critical measure of economic growth – has increased at only a third of the rate of the rest of the United States over the past ten years. Meanwhile, the average annual earnings in the private sector – how much Maine people get paid – has fallen to 78 percent of the national average, and the average job in Maine produces about $88,000 in net sales while the national average is $120,000. It also comes as more people are expected to retire than enter the labor force in the coming decade. When taken together – lackluster economic growth, slow wage growth, and the prospect of a further dwindling workforce – present serious challenges that threaten the success of our state.
However, the plan confronts these challenges head-on by establishing three overarching goals:
growing the average annual wage by 10 percent;
increasing the value of products sold per worker by 10 percent, and
attracting 75,000 people to Maine's talent pool.
To accomplish these goals, the plan then outlines seven core strategies that aim to:
grow talent in Maine
attract new talent to the state
promote innovation,
improve connectivity,
bolster infrastructure,
maintain a stable business environment
promote hubs of excellence.
Each strategy then includes specific action steps the State can take to grow the economy. For example, the plan recommends establishing a Maine Career Exploration Program that works with Maine youth throughout their time in school to determine their interests and connect them to resources and skills training that prepare them for a career path. It also recommends creating a Welcome Home Program, named after Governor Mills' slogan, to entice those who have grown up in Maine or those interested in moving to Maine to come to the state. Among several other action items, the plan recommends expanding and simplifying the Education Opportunity Tax Credit to help graduates living and working in Maine pay off student loan debt. It also recommends expanding the Maine Seed Capital Tax Credit Program to help innovative businesses take root, create jobs, and strengthen the economy. Importantly, it also identifies opportunities to enhance critical infrastructure, for example, with loan guarantees to support broadband.
Read the complete strategic plan (PDF)
Joining Governor Mills today for the unveiling were business leaders, entrepreneurs and innovators, education and non-profit officials. Governor Mills ordered the creation of the non-partisan plan in March, and in the subsequent months Commissioner Johnson gathered input from more than 1,300 Maine people from every corner of the state.
It has the support of the University of Maine System, the Maine Community College System, the Maine Development Foundation, the Maine State Chamber of Commerce, the Maine Venture Fund, Coastal Enterprises, Inc (CEI), the Maine Technology Institute, FocusMaine, and the Finance Authority of Maine, among others.
"Maine's public universities develop the state's future workforce, attracting and retaining tens of thousands of talented people to study, live, and work in Maine. We also accelerate discovery and innovations in both iconic and emerging industries. Maine's new Strategic Economic Development Plan promotes focus and partnership, aligning our public university teaching, research, and outreach to best serve our state and position Maine as a national leader in the 21st century knowledge economy," said University of Maine System Chancellor Dannel Malloy. "There are strong connections between this new economic path forward for our state and the University of Maine System R&D plan authored by President Ferrini-Mundy. I want to thank our UMaine President for her leadership on the strategic work team and express appreciation to the many members of the university community whose expertise helped shape the Strategic Economic Development Plan. Governor Mills and her team have provided strong vision and leadership. Maine's universities are eager to work with our community, government, and industry partners to build a stronger economic future for Maine and its people."
"The Maine Community College System has done great work to build skills and remove barriers faced by people who want to enter our workforce, but we are eager to do more. We can and must start by developing the skills of people already living in Maine –people who never went to college, who started college but didn't finish, or who have found themselves shut out of the workforce or who have given up. There is massive potential in all these people, and higher education is essential to helping them," said David Daigler, President of the Maine Community College System. "That is why we embrace this plan and its goals, and pledge to work together to diversify our economy, build our workforce, and help create meaningful, sustainable, well-paying jobs for Mainers for the next several generations."
"Maine has long-needed a data-driven, long-range plan like this that allows us to build broad-based consensus and long-term consistency so that all sectors and regions can focus and pull in the same direction, making the most of our limited resources and capitalizing on our unique Maine ability to be nimble and work together," said Yellow Light Breen, President and CEO of Maine Development Foundation (MDF). "MDF is proud of our contributions to this plan and looks forward to working in a nonpartisan fashion across all sectors to promote its implementation."
"The Maine State Chamber of Commerce is extremely pleased with the 10-year economic plan for the State of Maine," said Dana Connors, President of the Maine State Chamber of Commerce. "The plan is a blueprint for our economic growth as a State that is both realistic and achievable. I am grateful that the plan was developed using a comprehensive and inclusive process that included feedback from Maine business leaders and people across all parts of the state, which will contribute mightily to its success."
"This strategy for the state of Maine, like any convincing strategy, begins with a vision and charts an ambitious course," said Kimberly Hamilton, President of FocusMaine. "FocusMaine shares the view that Maine can compete globally with its unique natural assets and powerful, quality brand. The three areas our organization focuses on, Maine's food economy – agriculture and aquaculture – and growing life sciences field, are especially well positioned for growth, and we're delighted to have been a partner in this significant effort."
A longer list of the strategic plan's endorsements is attached (PDF)
The strategic plan is intended to serve as a dynamic document that is responsive to changes in the economy. Its implementation will be driven at the ground-level, outside of Augusta, through DECD partnerships with the private, education, non-profit sectors, and labor organizations, leveraging federal and private dollars wherever possible, with support from the state. Commissioner Johnson is preparing a long-range implementation plan that aims to prioritize steps that can be taken immediately, such as simplifying and streamlining business processes, while planning for longer-term investments such as the creation of the Maine Career Exploration Program or enhancing the Maine Seed Capital Tax Credit Program.
Robbins Lumber Inc. was founded by Frank and Otis Robbins on the St. George River in 1881. Since then, the family-owned business has constantly adapted to succeed in Maine's changing economy, investing in an industrial wood waste-burning boiler to produce more than half of its own power and implementing other energy efficient technology like water recycling. Today, Robbins Lumber owns and manages 30,000 acres of its own forests and buys logs from over 150 independent loggers, serving as an excellent example for how Maine companies can innovate to not only keep pace – but stay ahead – of the changing economy.