April 2, 2019
Joined by state lawmakers and renewable energy supporters, Governor Janet Mills today signed into law a bill that will help incentivize the long-awaited growth of the solar industry in Maine. LD 91 An Act to Eliminate Gross Metering, sponsored by Representative Seth Berry and signed by the governor, will reset the state's metering policy for solar and ensure that consumers who produce electricity from solar panels will be fairly compensated for supplying excess energy back to the electric grid. Governor Mills signed the legislation during a ceremony at Rocky's Stove Shoppe in Augusta, the first stove shop in the state to convert to solar energy.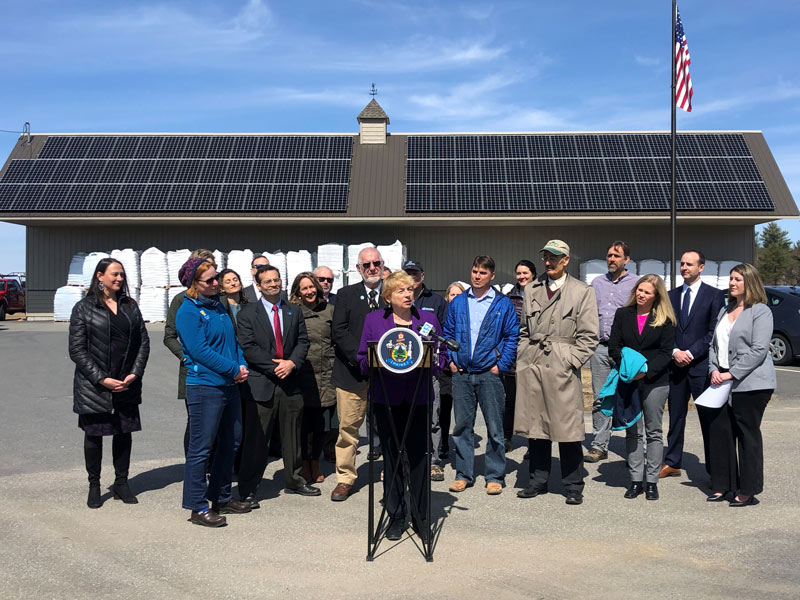 "For too long, Maine has lagged behind other states in embracing policies that advance the future of solar power," said Governor Mills. "That ends today. By signing into law this bill, we are restoring net metering, resetting Maine's solar policy, and charting the course for the growth of solar power to lower electricity bills and combat climate change. There is a lot more work to be done, and I look forward to working with the Legislature to send a clear signal that Maine's clean energy future is bright."
"Net metering is only a partial compensation for the incredible value we all receive from our neighbors' solar arrays," said Representative Berry, D-Bowdoinham. "I want to thank Gov. Mills for her leadership and support as we take this first small step toward a locally-controlled, clean-energy future for our state."
In 2016, Maine came under the rule of a practice known as "gross metering", which required solar panel owners to install a second meter to measure excess energy they produced through their solar array that was supplied back to Maine's electric grid. This electricity, even if used on site, was given a lower value. LD 91 An Act to Eliminate Gross Metering reverses that decision and restores net metering in Maine. As established by LD 91, Maine customers who own a solar PV system will receive a one to one credit for the excess electricity they produce per kilowatt hour.
According to the Solar Energy Industries Association, Maine ranked 40th nationwide for solar installation in 2018, generating enough to power 10,000 homes. Seventy solar companies employ 635 Mainers statewide, as the price of solar installations fell 47 percent over the last five years.
Rocky's Stove Shoppe and Chimney Services, owned by Rocky Gaslin and operated by his family, has eighty-three solar panels or 25.3 kW of solar, with an estimated annual production of roughly 33,400 kilowatt hours. These panels save the store more than $5,000 in electricity costs annually and offset roughly 30,000 pounds of carbon dioxide emissions each year.