July 11, 2023
Budget creates paid family and medical leave program, modernizes business incentive program, and makes transformational investments to support housing, child care, health care, and education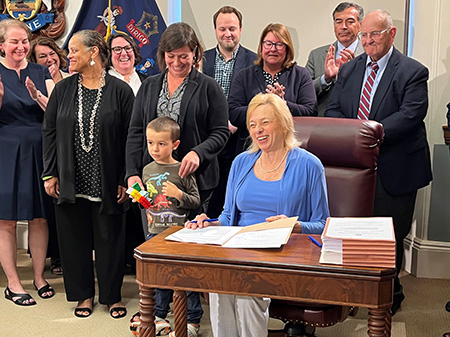 Governor Mills today signed into law an historic budget that creates a paid family and medical leave program in Maine, modernizes Maine's business incentive program, cuts taxes for Maine retirees, and makes transformational investments in housing, child care, health care, and education. The budget is balanced and maintains Maine's record high Budget Stabilization, or "Rainy Day" Fund.
"This historic budget delivers on my guiding belief that the way to build a stronger, more prosperous state is to invest in the infrastructure that Maine people need to succeed," said Governor Janet Mills. "From establishing a paid family and medical leave program to strengthening education, housing, child care, our workforce, and delivering tax relief for seniors, this budget makes transformative investments in Maine people. And it does so while living within our means – this budget is balanced while our Rainy Day Fund remains at a record-high."

"This final budget delivers critical support and services to protect the health and wellbeing of the people of Maine," said Kirsten Figueroa, Commissioner for the Department of Administrative and Financial Services. "Equally important, the State remains fiscally sound - keeping the Budget Stabilization Fund intact and at a record level, ensuring appropriations stay below current revenues, and looking ahead to future projections and long-term goals."
Highlights of the budget include:
Establishes Paid Family and Medical Leave Program: Establishes a new paid family and medical leave program, negotiated by Governor Mills to include more flexibility for businesses, and provides $25 million in one-time start-up funding. Maine will be the 13th state to establish a program and benefits will be available as of May 1, 2026.
Establishes A Modernized Business Incentive Program: Establishes the Dirigo Business Incentive Program, a replacement for the outdated Pine Tree Development Zone program, that provides tax credits to businesses to train workers and invest in capital – an approach that will help address Maine's labor shortage and attract new businesses to Maine.
Historic Housing Investments:

Establishes the Housing First Program: Creates a Housing First Program, a proven and effective approach to addressing the needs of people experiencing chronic homelessness, many of whom are struggling for stability while suffering from acute mental health and/or substance use disorders. This fulfills Governor Mills' promise to sign "housing first" legislation in her State of the Budget Address.
Builds More Housing: $70 million to build more affordable housing in Maine for workers and their families through the Rural Affordable Rental Housing Program and the Low-Income Housing Tax Credit program.
Funds Emergency Housing: Adds $12 million in one-time funding to the Emergency Housing Relief Fund created by Governor Mills and the Legislature in 2022 to support emergency housing needs in communities across Maine. Specifically, these funds will be used to extend housing supports to individuals and families now in transitional housing and expand support for shelters and other efforts to help individuals and families experiencing homelessness. This funding builds on the $43 million provided by the Governor and the Legislature over the past year to address homelessness.
Prevents Student Homelessness: Creates a pilot program that provides McKinney-Vento liaisons with access to emergency financial assistance for students at risk of homelessness, consistent with LD 1609.

Historic Child Care Investments: Builds on improvements in Maine's child care system that have gained national recognition for supporting children, families, and the workforce:

Improves the Maine Dependent Exemption Tax Credit: Makes the $300 Dependent Exemption Tax Credit refundable for tax years beginning on or before January 1, 2024 and indexes the credit to inflation beginning on January 1, 2025.
Makes Child Care More Affordable: Increases eligibility for the child care affordability program, which helps income-eligible working families to pay for child care, from 85 to 125 percent of the state's median income. The change would take effect in January 2024.
Doubles Child Care Worker Stipend: Doubles the salary stipends for child care workers from $200 to $400 on average, helping qualified professionals afford to remain in the industry and help providers retain staff.

Extends Free Community College: $15 million to continue providing up to two years of free community college education for all students from the high school graduating classes of 2024 and 2025 who enroll in a Maine community college.
Delivers Income Tax Break for Retired Maine Residents: Beginning in 2024, increases the annual income tax pension deduction from $35,000 by tying Maine's pension deduction amount to the maximum annual Social Security benefit, which is indexed to inflation. This tax relief builds on the more than $200 million a year (PDF) – or more than $400 million for the biennium – in tax relief initiatives for Maine people.
Supports Maine State Retirees: The budget dedicates $19.8 million for a one-time 3 percent cost-of-living adjustment for retired State employees. The one-time adjustment would provide a maximum benefit of $726 and an average benefit of $527 to approximately 37,600 state sponsored plan retirees.
Strengthens Emergency Medical Services: Provides $31 million in one-time funding to establish the Maine Emergency Medical Services Sustainability and Resiliency Grant Program to provide grants to Maine-based emergency medical services throughout the state to ensure continued access to high-quality emergency medical services.
Strengthens Delivery of Legal Services: Provides $2.6 million in ongoing funding to create six trial court judgeships to address the backlog of cases, along with nearly 40 new positions including deputy marshals and clerks to help facilitate court operations, fulfilling the Governor's promise from her State of the Budget Address earlier this year. The budget also provides $4 million in one-time funding to be distributed through the Civil Legal Defense Fund, which supports civil legal services in Maine.
View a more comprehensive outline of the budget (PDF).
The $445 million budget – which builds on the current services budget that maintains 55 percent of the cost of education, fully restores revenue sharing with municipalities, and provides more than $200 million in tax relief to Maine people per year – results in a $10.3 billion biennial budget. As required by the Maine Constitution, the budget is balanced. It will take effect 90 days after the Legislature adjourns.
The budget comes after Governor Mills and the Legislature returned $474 million to Maine people through the Emergency Winter Energy Relief Plan, sending $450 checks to more than 875,000 Maine people, and, before that, $850 inflation relief checks and the $285 disaster relief payments.
Under Governor Mills' leadership, Maine's Budget Stabilization, or Rainy Day Fund, has grown to a record high of more than $900 million, nearly reaching its statutory maximum. Additionally, Moody's Investors Service and S&P Global Ratings, global companies that analyze and issue reports of credit worthiness, have affirmed their strong credit ratings on the State of Maine's general obligation debt. Moody's affirmed their Aa2 rating and upgraded their outlook from stable to positive. S&P affirmed their AA rating and stable outlook.
In June, Governor Mills also signed into law the Fiscal Year 2024-2025 Highway Fund Budget that builds on her Administration's unprecedented investments in infrastructure and creates a new, sustainable source of funding for transportation infrastructure repair.