May 28, 2019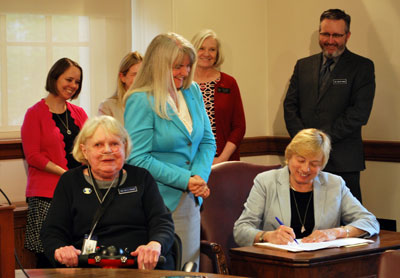 Surrounded by workers, advocates and lawmakers, Governor Janet Mills today signed into law a groundbreaking bill to create a statewide earned paid leave policy that will result in paid leave for 85 percent of all Maine workers. The legislation, LD 369, An Act Authorizing Earned Employee Leave sponsored by Senator Rebecca Millett, requires companies with more than 10 employees to offer earned leave. Small businesses and seasonal employees are exempt.
"I don't know anyone who hasn't gotten sick or had a child who's gotten sick. That's just life and such unexpected circumstances should not break the bank for working Maine people," said Governor Mills. "This bipartisan bill balances the interests of business owners and ensures that hardworking Mainers are able to take necessary time off without worrying about losing a day's pay. This forward-looking policy is good for our economy, good for our workforce, and it shows what we can accomplish when we work to find common ground."
"From the start, this has always been about making sure Mainers don't have to choose between the health of their family or their paycheck. By instituting a statewide earned paid time off policy, we are one step closer to this goal," said Sen. Rebecca Millett, D-Cape Elizabeth. "No one should worry about losing their job or paycheck when child care is canceled or when their parent has a health scare. They shouldn't worry about how they will pay for the flat tire on top of missing work while they get it repaired. This new law provides Mainers with some breathing room should the unexpected happen."
"Under the stewardship of Governor Mills, this legislation has achieved a balance which will minimize detriments to Maine businesses while supporting working families and strengthening our economy," said Dana Connors, president of the Maine State Chamber of Commerce. "While no one achieved everything they wanted, this new law is the product of bipartisan work, and I am thankful for how we have come together since its introduction."
According to National Council of State Legislatures, 10 states have paid sick laws. Maine's bill would allow for the use of paid leave for other circumstances while requiring reasonable notice by employees. The amended bill won strong bipartisan support in the Legislature, including a 9 to 1 vote in favor by the Labor and Housing Committee, and has the backing of the Maine State Chamber of Commerce. In addition to providing paid leave for 85 percent of all Maine workers, the bill also exempts more than 40,000 of Maine's 50,792 businesses.
Upon Governor Mills' signature, the law will take effect 90 days after the adjournment of the Legislature.