May 16, 2019
Flanked by Maine tribal leaders and ambassadors, lawmakers, and education officials, Governor Janet Mills signed into law a bill passed unanimously by the Legislature to prohibit Native American mascots in all Maine public schools Thursday.
"While Indian mascots were often originally chosen to recognize and honor a school's unique connection to Native American communities in Maine, we have heard clearly and unequivocally from Maine tribes that they are a source of pain and anguish," said Governor Mills. "A mascot is a symbol of pride, but it is not the source of pride. Our people, communities, and understanding and respect for one another are Maine's source of pride and it is time our symbols reflect that."
"I am deeply proud of the steps our Legislature has taken this session to finally honor Maine's tribes in the way they should be honored. Our tribal communities laid the foundation of our state. They are people, not mascots. I am grateful Gov. Mills continues to support laws that recognize the rightful place of indigenous people in our state," said Representative Benjamin Collings, D-Portland. 
"The argument has always been that 'we are honoring you,' by passing this legislation the State of Maine is truly honoring Native Americans," said James Francis, Penobscot Nation's Tribal Historian.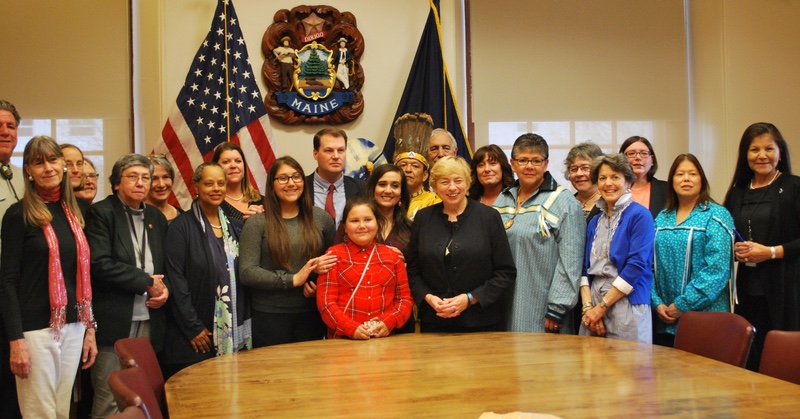 "After many years of work by both Native and non-Native people in Maine, the signing of LD 944 marks a significant step in showing respect for the humanity of every Mainer.  None of us are mascots anymore.  It also shows great leadership by Governor Mills and the legislature in protecting the children of Maine—overwhelming research shows how harmful Naive mascots are to children, especially to Native children, and LD 944 ensures that our children will not be harmed by the kind of disrespectful representations of Native people that always come with these mascots," said Darren Ranco, PhD, Chair of Native American Programs, University of Maine. 
"We recognize this day as the start of a higher trust of promoting cultural diversity and awareness in place of any continuous social injustices towards one another. Today and for now on, it is our collective responsibility to the next generations to promote each other as equals, as individuals, and most importantly as neighbors," said Representative Rena Newell, Passamaquoddy Tribe.
"On behalf of the Penobscot Nation and the Wabanaki Nations of Maine, I want to thank Governor Mills and Representative Collings for this huge step toward honor and respect for Indigenous people. This is a very personal issue for me. I have been educating and advocating for change of these mascots since I was a teenager and it is very meaningful to have my daughter here at this signing ceremony along with our tribal leaders, allies and friends," said Ambassador Maulian Dana, Penobscot Nation.
LD 944 "An Act To Ban Native American Mascots in All Public Schools" (PDF) sponsored by Representative Benjamin Collings of Portland prohibits all Maine public schools from adopting a name, symbol or image that depicts or refers to a Native American tribe, individual, custom or tradition and that is used as a mascot, nickname, logo, letterhead or team name of the school.
A 2005 study by the American Psychological Association called for the immediate retirement of all American Indian mascots, symbols, images and personalities stating "The use of American Indian mascots as symbols in schools and university athletic programs is particularly troubling because schools are places of learning. These mascots are teaching stereotypical, misleading and too often, insulting images of American Indians. These negative lessons are not just affecting American Indian students; they are sending the wrong message to all students."
California, Oregon and Wisconsin have enacted similar bans or restrictions on the use of Native American Mascots and Michigan, New York and South Dakota are among states nationwide that have enacted resolutions calling on the end of their use.
Upon Governor Mills' signature, the law will take effect 90 days after the adjournment of the Legislature.
Governor Mills also signed the following bills into law earlier this week: