March 6, 2023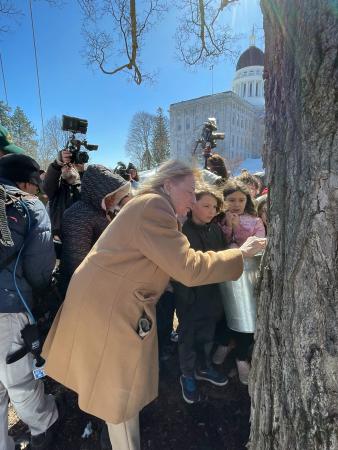 Governor Janet Mills and Maine Maple Producers Association President Lyle Merrifield today tapped the Blaine House Maple Tree ahead of the 40th annual Maine Maple Sunday Weekend later this month.
The annual tradition sets the stage for Maine Maple Sunday Weekend and is an opportunity to promote an industry that is estimated to generate $55.6 million in economy activity and support more than 800 full- and part-time jobs across the state.
Maine's Maple Sunday Weekend is March 25-26, 2023, at Maine Maple Producers Association sugar shacks around the state.
"Maine Maple Sunday Weekend is an opportunity for us all to celebrate the world class products – and people – that make Maine unique. Our iconic maple syrup industry supports thousands of jobs, strengthens our economy, and sets us apart nationwide," said Governor Janet Mills. "I encourage all Maine to celebrate our hardworking Maple producers by joining me in visiting one of our extraordinary sugarhouses at farms across the state during Maine Maple Sunday Weekend later this month."

"My family and I and the entire Maine Maple Producers Association membership are proud to represent the best pure Maine Maple syrup and Maine Maple products," said Maine Maple Producers Association President Lyle Merrifield. "Our members are stewards of the land who work hard to sustain this great piece of Maine's agricultural heritage. We look forward to sharing the craftsmanship of maple syrup production with customers during Maine Maple Sunday Weekend."

"Maine Maple Sunday Weekend is an event I look forward to every year," said Amanda Beal, Commissioner of the Department of Agriculture, Conservation and Forestry. "Visiting family farms, touring the sugarhouses, sampling syrup and the various maple products, and supporting these local businesses is a great way to spend a weekend in Maine, whether you are from Maine or visiting."
Maine is home to 520 producers licensed to sell maple products. Most are small, artisan businesses focusing on high-quality products and customer relationships. Maine produces more than 575,000 gallons of syrup every year, making the state is the third largest producer of maple syrup in the country.
Maine Maple Sunday Weekend features dozens of Maine Maple Producers opening their sugar house doors for visitors to learn about Maine maple syrup and how it is made. Maple Sunday Weekend is a free family event with each producer setting their own hours and activities, including sap boiling demonstrations, sugar woods tours, live music, horse-drawn hayrides, maple products for sale, and maple product samples. The full list of participating Maine Maple Producers can be viewed on mainemapleproducers.com.