Cabinet outlines immediate action, including the establishment of a new Chief Pediatrician for Maine, to support children's health and safety
This morning, Governor Janet Mills convened the first meeting of the Children's Cabinet under her Administration, bringing together leaders from across state government to begin improving the lives of Maine's children.
"There is no higher priority than our children," said Governor Mills. "My Administration is committed protecting and supporting them from their early years through their transition to adulthood by providing high-quality care, education, and support for their families. By reconstituting the Children's Cabinet today, we are renewing this commitment to them and to our future."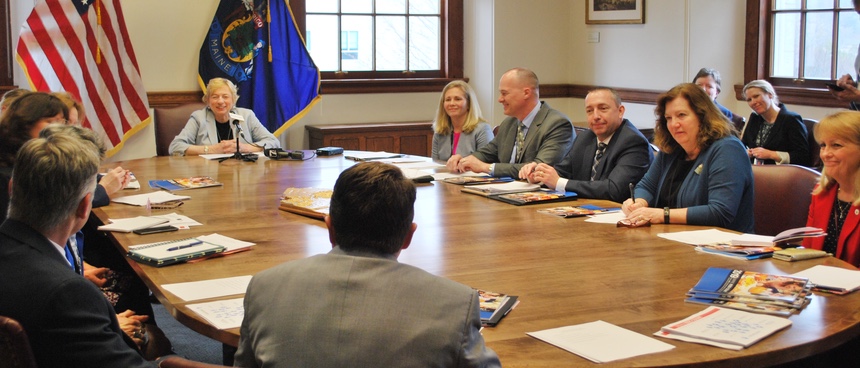 "Ensuring the health, safety and wellbeing of Maine's children is paramount," said DHHS Commissioner Jeanne Lambrew, the Chair of the Cabinet. "The Children's Cabinet is pursuing this key goal of the Administration with ambition and expertise."
The Cabinet is collaborating on two central goals:
Creating an aligned early care and early education system in Maine that supports children before they reach school age. This includes expanding home visiting, improving childcare and early childhood programs, bolstering coordination across agencies and geographies, maximizing state and federal funds, and targeting the children and families who need quality programs the most.
Improving care and prevention for at-risk youth, especially those who are in the child welfare system, or who are homeless, or who are at risk of entering the juvenile justice system. The objective is to provide services to youth and their families close to home.
Commissioner Lambrew announced immediate actions toward these goals, including establishment of a new Chief Pediatrician for Maine who will ensure kids get the full range of health and human services; streamlining of the home visiting program through the Maine Center for Disease Control and Prevention; and expanding training for child care providers to help them better identify and help protect children at risk of abuse.
Governor Mills announced in her Inaugural Address that she would reconstitute the Children's Cabinet, which was created in 1996 by then-Governor Angus King as a forum for government agencies to collaborate on policies to support Maine children. The Children's Cabinet is comprised of the Commissioners of the Departments of Health and Human Services, Education, Labor, Public Safety, and Corrections. Maine's Chief Justice, Leigh Saufley, who plans to participate regularly by invitation, was also in attendance, along with representatives from participating agencies.
The Children's Cabinet will meet approximately every six weeks.