January 14, 2020
Next step in her 100,000 heat pump initiative is expected to help create jobs, reduce reliance on fossil fuels, and save Maine people money on heating bills
Joined by leaders from Efficiency Maine Trust, Hometown Heat Pumps, and the Maine Community College System at F.W. Webb Company in Augusta, Governor Janet Mills today announced that Maine was doubling its rebates to help Maine people purchase high-performance heat pumps.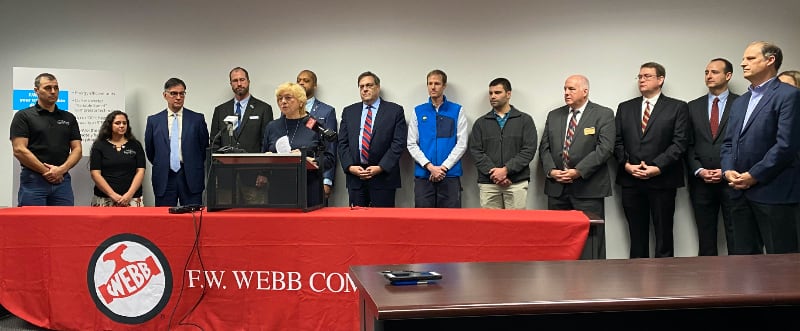 The new, aggressive incentives are the next step in advancing the Governor's 100,000 heat pump initiative, which the Governor proposed and signed into law last year, and which establishes the goal of installing 100,000 heat pumps in Maine homes and businesses by 2025. The initiative, which does not use state taxpayer funds, will maintain the state's trajectory as a national leader in beneficial electrification – replacing high-carbon fossil fuels with cleaner electricity – while lowering heating bills and creating quality jobs.
"These new rebates will help make high-performance heat pumps more attainable for more Maine people, and the effects of this initiative will ripple across Maine's economy," said Governor Mills. "Not only will it help create good-paying jobs, boost small businesses, and promote workforce training at our community colleges, but it will also help Maine people save money on their heating bills and reduce our reliance on fossil fuels, helping us protect our environment and fight climate change. I encourage Maine people to see what they are eligible for." 
The new suite of rebates, which took effect on January 1, 2020, is aimed at helping Maine people and businesses install high-performance heat pumps. The so-called Tier 2 rebate, which applies to the most advanced high-performance heat pump installations meeting new Efficiency Maine requirements, is doubling from $500 to $1,000 for the first indoor unit installed and from $250 to $500 for the second unit. Heat pumps meeting the so-called Tier 1 rebate standards will continue to be eligible for a $500 rebate for the first indoor unit and $250 for a second indoor or outdoor unit, as in prior years. Additionally, enhanced $2,000 rebates are also now available to homeowners who receive heating assistance through the Low Income Home Energy Assistance Program (LIHEAP).
"Seven years into our programs promoting this new generation of heat pumps, specially designed for cold winters, we continue to see growth in consumer demand which tells us these new models really work well, even when it's freezing outside," said Michael Stoddard, Efficiency Maine's Executive Director. "With these new rebates, Maine now has the opportunity to accelerate demand for heat pumps, maintaining its trajectory as a national leader in displacing high-carbon fossil fuels with cleaner electricity while lowering heating bills at the same time." 
According to Efficiency Maine Trust, a high-performance heat pump can help an average Maine home reduce its oil consumption by 270-540 gallons per year; reduce its carbon emissions by an estimated 3,600-7,250 pounds per year per home per high-performance heat pump; and, when the initiative is fully realized, can save Maine people between a total of $30-$60 million annually, providing an important boost to the local economy.
Hometown Heat Pumps – a family-owned business in Burnham – and one of its several suppliers, F.W. Webb, are two of the more than 400 businesses that form the supply chain serving heat pump customers in Maine. Across the state, these businesses have begun increasing capacity to serve their customers and meet the growing demand from the new rebates, which means more quality jobs and a growing demand for training programs like those offered by the Maine Community College System, supply houses, manufacturers, and trade associations such as the Maine Energy Marketers Association.
"Customer service has been our top priority along with helping our customers save substantially on heating and cooling costs," said Christie Whitcomb, Owner of Hometown Heat Pumps.  "This has allowed us to grow quickly and become a leader in the heat pump industry."
"This sort of initiative is why we remain focused on providing critical, relevant workforce training at the community colleges," said David Daigler, President of the Maine Community College System. "As industries and policies shift, we adjust our programs to make sure students and trainees are learning the latest techniques and technologies to keep up with industry needs."
Governor Mills signed into law LD 1766, sponsored by Senator Mark Lawrence, last June.