November 10, 2021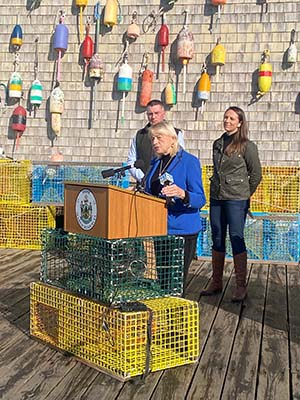 Investment will help stabilize and grow Maine's iconic seafood industry and keep Maine people working on our waters and waterfronts
Portland, MAINE – Governor Janet Mills today announced that her Administration is investing $10 million in federal funds through her Maine Jobs & Recovery Plan to allow Maine seafood dealers and processors to upgrade their infrastructure.
The new Seafood Infrastructure Investment Program will launch early next year and will be administered through the Maine Department of Marine Resources. It will provide grants to Maine seafood dealers and processors to upgrade buildings, equipment, and utilities. These grants will help seafood dealers and processors increase the supply of Maine-harvested seafood; strengthen their ability to deliver to markets in Maine, across the United States, and around the world; and create and sustain jobs throughout Maine's iconic seafood industry
"Maine's seafood industry – from our fishermen and lobstermen to our processors and our dealers – is a cornerstone of our economy, employing thousands of people up and down the coast and generating about two billion dollars every year," said Governor Janet Mills. "They work hard every day, and they have adapted with characteristic Maine grit and ingenuity to meet the challenges of the pandemic, but it hasn't been easy by any means. Helping our dealers and processors upgrade their infrastructure will ensure the strength and vitality of this industry for years to come, will keep Maine people working in our waters and waterfronts, and will keep delivering Maine's world-class seafood across the globe."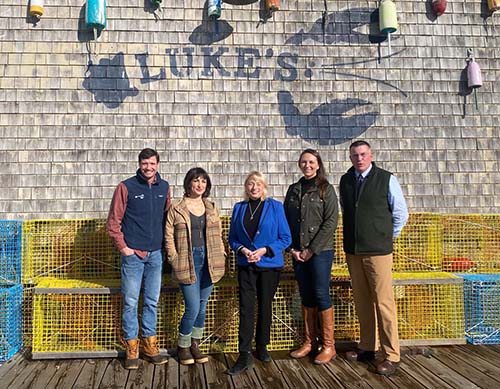 Today's announcement was made at the Portland waterfront facility of Luke's Lobster, a family-owned Maine seafood business, founded by third-generation lobsterman Luke Holden.
"The pandemic forced our business to pivot from production and sales tailored for the food service industry to production and sales for grocery and ecommerce channels," said Luke Holden, Founder and Chief Executive Officer of Luke's Lobster. "While we created new demand and opportunity for the Maine lobster and seafood industry, there were many costs associated with opening up these new channels and shifting production in such a dramatic way. Getting support from the State is necessary and appreciated so that we can continue to focus on ensuring a strong market for Maine's fishermen and lobstermen both here in Maine and nationwide."

"The pandemic tested the limits of the infrastructure, personnel, and resources in the Maine lobster supply chain," said Annie Tselikis, Executive Director of the Maine Lobster Dealers Association. "Our businesses incurred costs associated with but not limited to employee quarantine and testing, Personal Protective Equipment, facility reengineering for worker safety and social distancing, and new product lines and packaging to support shifts in distribution from food service to retail or e-commerce. In our industry, like so many others, necessity is the mother of invention, but invention always comes at a cost. To date, there has not been a fund that directly or effectively mitigates the massive costs that Maine lobster wholesalers and processors experienced during the pandemic. We welcome the Maine Jobs & Recovery Plan funds to support the needs of the lobster supply chain."

"At Atlantic Sea Farms, we work to diversify incomes for fishermen by farming kelp - and one component of that commitment is to guarantee purchase of every blade of kelp that our partner farmers grow," said Briana Warner, CEO of Atlantic Sea Farms. "The pandemic hit right as harvest season was beginning in 2020 and, at the same time, our customers - almost all of whom were food service customers - shuttered overnight. We still bought all of that kelp that we had promised to buy even though we didn't know where or how we would sell it - because it was the right thing to do. We had to completely change our process and our offerings and hired new staff and purchased new machinery to pivot into retail. This was no small task, and its failure would have had a potentially irreversible effect on Maine's growing kelp industry, as our partner farmers produce more than 85 percent of domestic line-grown seaweed. Through this grant, the State of Maine is recognizing the significant cost and effort that processors had to make to address an entirely new market resulting from COVID and is helping us continue to grow opportunities for fishing families in Maine."

"Many Maine seafood dealers and processors have had to adjust their facilities at great financial cost during the pandemic to safely continue operations," said Patrick Keliher, Commissioner of the Maine Department of Marine Resources. "Supply chains have also been volatile, requiring dealers and processors to invest in new ways to get their product to market. Unfortunately, many of Maine's dealers and processors have had limited access to other federal COVID-19 relief programs, and the expenditures they have made to remain in business during the pandemic have depleted their financial resources and left many of them unable to continue to make the investments necessary to grow. This funding is designed to provide a flexible opportunity for businesses that wish to make investments that will enable greater resilience to changing market conditions in the future. Such investments are critical to the stability of Maine's seafood industry."
The Department of Marine Resources will begin accepting applications in the coming months. A range of funding will be offered, including smaller grants for facilities improvements and larger grants for capital projects. Eligible investments may include:
This new Maine Jobs & Recovery Plan program builds on the Mills Administration's commitment to Maine's seafood industry. In 2020, the Administration awarded approximately $17 million from the CARES Act in direct payments to Maine fishermen, aquaculturists, charter fishing operations, dealers and processors.
This event is the second in Governor Mills' Maine Heritage Industry Week, which features a series of announcements through the Maine Jobs & Recovery Plan focused on supporting Maine's iconic farming, fishery and forestry industries. Earlier this week, Governor Mills announced that she was investing $20 million in Maine's farmers and food processors to help them strengthen their businesses.
The Maine Jobs & Recovery Plan is the Governor's plan, approved by the Legislature, to invest nearly $1 billion in Federal American Rescue Plan funds to achieve three goals: immediate economic recovery from the pandemic; long-term economic growth for Maine; and infrastructure revitalization.
It draws heavily on recommendations from the Governor's Economic Recovery Committee and the State's 10-Year Economic Development Strategy, transforming them into real action to improve the lives of Maine people and strengthen the economy.
Since the legislation implementing the Maine Jobs & Recovery Plan took effect on October 18, 2021, Governor Mills has announced:
Funding for the Maine Jobs & Recovery Plan is through the federal American Rescue Plan Act, which allocated $4.5 billion in stimulus funds to Maine earlier this year.
Coordination of the Jobs Plan is led by the Maine Department of Administrative and Financial Services and the Governor's Office of Policy Innovation and the Future, through a new Maine Jobs & Recovery Plan Office.
This Office will oversee the transparent and accountable implementation of the Jobs Plan, including ensuring that proposed expenditures are permissible under U.S. Treasury eligibility guidance, the final version of which remains pending.