October 29, 2019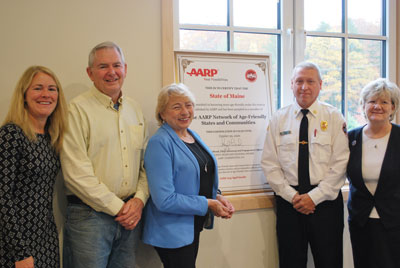 Governor Janet Mills and AARP Maine State Director Lori Parham announced today that the State of Maine has joined the AARP Network of Age-Friendly States and Communities, a move hailed by AARP as a major step toward making Maine more livable for people of every age. The announcement was made before a crowd of state and municipal officials and statewide aging organizations at the Wescustogo North Yarmouth Community Center.
"Creating age-friendly, livable communities with walkable streets, safe and affordable housing, transportation and access to services will ensure that Maine people of all ages contribute to our state while living with dignity and comfort in the homes and communities they love," said Governor Mills. "With this designation, Maine now has access to critical data, technical advice, best practices and organizing tools to help us plan for the future in a thoughtful way and learn from a global network of partners to better serve older Mainers."
Maine is the sixth state to receive the coveted designation; but Maine has led the country for years in the number of towns and counties that have joined the Network, currently at 69, and these towns are in every region of the state.
"The designation of Maine as an age-friendly state will ignite important partnerships at every level from our smallest communities to government agencies, and will make Maine an even better place to live for people of all ages," said Lori Parham, AARP Maine State Director."On behalf of our 230,000 members in the state, we thank Governor Mills for her leadership. Together with age friendly leaders from across the state, Maine can be the best place to work, play, and retire."
Joining the network is the first step in a multi-year process. Member states and communities are encouraged to plan and implement strategies that best fit the assets and opportunities of that state and community. Work focuses on eight age-friendly domains: Transportation, Housing, Public Spaces, Respect and Social Inclusion, Civic Participation and Employment, Social Participation, Community and Health Services, and Communication and Information.
Network members draw input from residents, churches, schools, government and businesses on the issues they will address in their pursuit of age-friendly communities. The Department of Health and Human Services, the Maine Department of Transportation, the Department of Labor, Maine Housing Authority and the Department of Agriculture and Conservation, among other agencies, will be working with AARP Maine on an Age-Friendly State plan.