November 25, 2019
Saco, Maine – Led by President and CEO Brianna Warner, Governor Janet Mills today toured Atlantic Sea Farms, an innovative company that partners with local fishermen to harvest Maine kelp and deliver it to restaurant, stores, and tables across the country.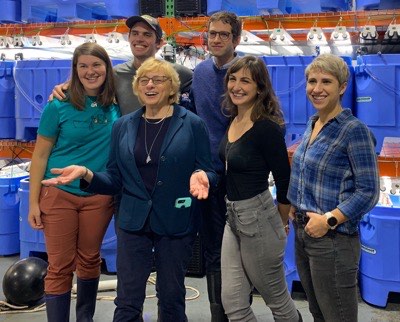 The company is spearheading innovative work to diversify how Maine's coastal waters are used as climate change continues to impact the Gulf of Maine. Rather than harvest the kelp itself, the company identifies and then partners with local, independent fishermen to start their own kelp farms using what is known as "the rope grown method" to farm and harvest the kelp, which is compatible with and complementary to much of their existing fishing business. Farming and harvesting their own kelp relieves pressure on farming from wild kelp beds, diversifies the sources of income for many of the fishermen, and allows Atlantic Sea Farms to provide a sustainable, healthy and local kelp alternative to much of the dry, processed seaweed product that is imported from Asia.
Following the visit, Governor Mills and Commissioner of Economic and Community Development (DECD) Heather Johnson, who accompanied her on the tour, applauded the company for its work to diversify the economy, support jobs, and fight climate change:
"Atlantic Sea Farms is a pioneering company, demonstrating how our state can diversify its economy, support good-paying jobs, and mitigate the impacts of climate change to protect our environment," said Governor Janet Mills. "Innovation like we saw at Atlantic Sea Farms will help us strengthen and expand our economy and attract people to live and work in Maine. I applaud the company for their creativity and their partnerships with local fishermen, and I look forward to their continued success in the years to come."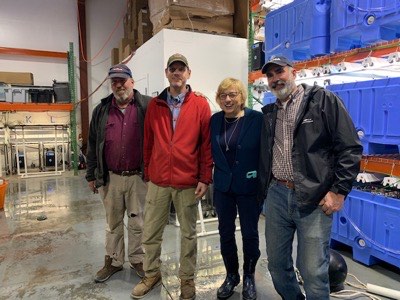 "Today we were able to see innovation at its best," said DECD Commissioner Heather Johnson. "We toured a company whose CEO saw an opportunity to support a local heritage industry while creating a sustainable food source that will create a long-lasting positive impact on Maine's economy."
Following their visit to Atlantic Sea Farm, Governor Mills and Commissioner Johnson visited Ready Seafood in Saco, the largest lobster processing plant in the state. Ready supplies and processes live lobsters through their Portland and new Saco facility, respectively, and is a member of the Alliance for Maine's Marine Economy, a network of companies, organizations and individuals dedicated to the growth of a vibrant marine economy for Maine.
The visits come as the Mills Administration works to support the growth and diversification of Maine's economy; leverage the state's natural resources to spur economic development; and embrace energy efficiency and renewable energy to create jobs and fight climate change.