April 12, 2019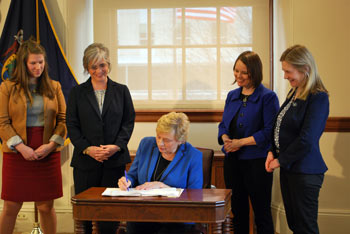 Today, on her 100th day in office, Governor Janet Mills signed legislation to promote pay equality. LD 278, sponsored by Senator Cathy Breen of Falmouth and passed overwhelmingly by the Legislature, promotes pay equality by discouraging employers from basing wages on an employee's salary history.
"Maine is a better place when we strive to ensure that all citizens are treated equally and fairly. By working to see that all people are paid based not on prior compensation, but on their experience, their abilities, and their qualifications, we can help level the playing field for women across Maine and enhance their economic security," said Governor Mills. "This is good public policy and it is the fair and right thing to do."
"The gender wage gap exists despite statutes and rules that prohibit wage discrimination on the basis of gender, and despite the good intentions of so many employers, human resource professionals, and advocates," said Senator Breen. "As policy makers, it's up to us to do all we can to narrow and someday eliminate the wage gap between Maine women and men. I'm proud of the work we were able to do on LD 278 – it's the right thing to do for Maine women and Maine taxpayers."
LD 278 An Act Regarding Pay Equality prohibits an employer from asking about a prospective employee's prior wage or salary information until after an offer of employment has been made to the prospective employee, with exceptions included for federal and state law that require the disclosure of compensation history for specific employment purposes. Research shows that men with a bachelor's degree make on average 20 percent more than their female classmates after just one year of employment. As a result, employers can perpetuate the wage gap by basing wages on salary history and not experience and qualifications.
In Maine, women make 82 cents for every dollar men make (PDF) while, nationally, women are paid 80 cents for every dollar paid to men, together losing more than $900 billion a year because of the gender wage gap. In the U.S., the average woman has to work 15 months to earn what the average man earned in 2018 for 12 months of work. The gender pay gap is far starker for women of color. African American women make 61 cents on the dollar, Native American women make 58 cents on the dollar, and Latinas just 51 cents on the dollar compared to white, non-Hispanic men.